Saks & Violins: A Bed-and-Breakfast Mystery (Mass Market Paperback)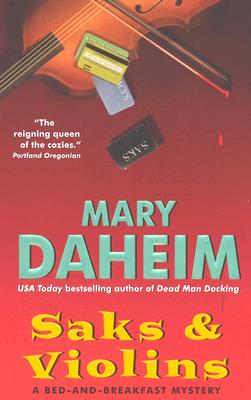 $6.99
Special Order - Subject to Availability
Description
---
Life has hit some sour notes as of late for B&B hostess Judith McMonigle Flynn and her cousin Renie. Graphic design guru Renie's up to her eyebrows in debt after some seriously overzealous spending sprees. Meanwhile, Judith's got her hands full with her wacky new neighbor, Rudi, a virtuoso violinist whose daily—and usually unclothed—practices are unhinging her and other neighbors in the cul-de-sac.
But, though they'd all love to kill nude, rude Rudi, it's his larger-than-life mentor, Dolph Kluger, who takes his final bow after ingesting some ruthlessly poisoned rhubarb. To add to the musical mayhem, Rudi's priceless violin bow goes missing, Renie's useless credit cards are stolen, and each murder suspect seems loopier than the last. Once again, the cousins are going to need some fancy fingering to make a cold-blooded killer sing—but if they're not careful, the next music they hear will be their funeral march.
About the Author
---
Mary Richardson Daheim is a Seattle native with a communications degree from the University of Washington. Realizing at an early age that getting published in books with real covers might elude her for years, she worked on daily newspapers and in public relations to help avoid her creditors. She lives in her hometown in a century­old house not unlike Hillside Manor, except for the body count. Daheim is also the author of the Alpine mystery series and the mother of three daughters and grandmother of two granddaughters, all of whom live within shrieking distance.
Site and Event Search