Washington's Secret War: The Hidden History of Valley Forge (Paperback)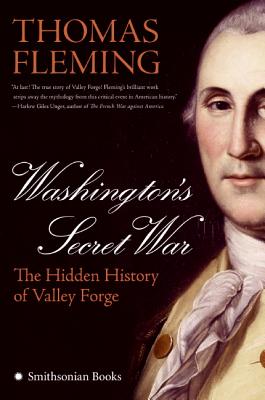 $15.99
Special Order - Subject to Availability
Description
---
The defining moments of the Revolutionary War did not occur on the battlefield or at the diplomatic table, claims Thomas Fleming, but at Valley Forge, where the Continental Army wintered in 1777–78. WASHINGTON'S SECRET WAR tells the dramatic story of how those several critical months transformed a beaten, bedraggled group of recruits into a professional army capable of defeating the world's most formidable military power.
While the British Army relaxed in Philadelphia only 20 miles away, George Washington trained his army under brutal conditions. Fleming reveals that during this difficult winter Washington was simultaneously fighting another war – one for his political life as members of the Continental Congress hatched a plot to unseat him and others plotted to betray him. For the first time, WASHINGTON'S SECRET WAR reveals how Washington's genius at negotiating the gray world of spies, double agents, and palace intrigue vaulted him from losing general to the charismatic father of his country.
About the Author
---
Thomas Fleming is the author of more than 40 books of fiction and history. He was born in Jersey City, N.J., the son of a powerful local politician, who gave him a lifelong interest in politics and history. He is the only writer in the seventy year history of the Book of the Month Club to win main selections in both fiction and nonfiction. His 1981 novel, "The Officers' Wives, won international acclaim, selling more than 2,000,000 copies." Liberty! The American Revolution was listed as one of the eight best books of 1997 by the History Book Club.
Fleming has made the Revolution his special field.
Three of his books have won best-book-of-the-year citations from the American Revolution Round Table of New York. He has also demonstrated a sweeping grasp of the entire course of American history in West Point: "The Men and Times of the U.S. Military Academy, The New Dealers' War and other books. Fleming is a senior scholar on the board of the National Center for the American Revolution. He is also a fellow of the Society of American Historians. He often appears as a commentator on PBS, the History Channel and A&E. He lives in New York.

Praise For…
---
Fleming enhances his position as a leading general-audience historian of the American Revolution with this convincing argument.
-Publishers Weekly (starred review)

Solid account of the political intrigue that threatened the American cause during the winter of 1777-78.
-Boston Globe
Site and Event Search