A People's History of Christianity: The Other Side of the Story (Hardcover)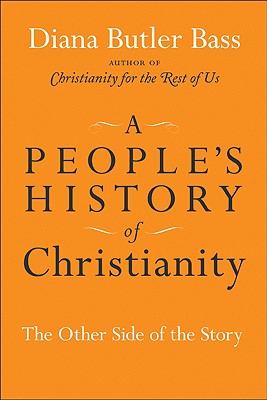 $25.99
Special Order - Subject to Availability
March 2009 Indie Next List
---
"Diana Butler Bass writes with a historian's authority and a believer's conviction in a beautifully executed book. Her use of the stories of Christian heroes -- saints and monks, and laypersons, too -- adds a human dimension to a vast topic. Readers couldn't ask for a better guide to 2000 years of Christian faith than this refreshing and highly readable book."
— Christopher Rose, Andover Bookstore, Andover, MA
Description
---
For too long, the history of Christianity has been told as the triumph of orthodox doctrine imposed through power and hierarchy. In A People's History of Christianity, historian and religion expert Diana Butler Bass reveals an alternate history that includes a deep social ethic and far-reaching inclusivity: "the other side of the story" is not a modern phenomenon, but has always been practiced within the church. Butler Bass persuasively argues that corrective—even subversive—beliefs and practices have always been hallmarks of Christianity and are necessary to nourish communities of faith.
In the same spirit as Howard Zinn's groundbreaking work The People's History of the United States, Butler Bass's A People's History of Christianity brings to life the movements, personalities, and spiritual disciplines that have always informed and ignited Christian worship and social activism.
A People's History of Christianity authenticates the vital, emerging Christian movements of our time, providing the historical evidence that celebrates these movements as thoroughly Christian and faithful to the mission and message of Jesus.
About the Author
---
Diana Butler Bass is a blogger for The Huffington Post and a regular commentator on religion, politics, and culture for such media as USA Today, Time, Newsweek, The Washington Post, CNN, FOX, PBS, and NPR. Her previous books include A People's History of Christianity and Christianity for the Rest of Us. Bass holds a Ph.D. in religious studies from Duke University and has served on the faculty at the University of California at Santa Barbara and Rhodes College, and is a fellow at Seabury-Western Theological Seminary. She speaks regularly at churches, retreats, and workshops across the country and lives in Alexandria, Virginia.
Praise For…
---
"It would be difficult to imagine anyone reading thi book without finding some new insight or inspiration, some new and unexpected testimony to the astonishing breadth of Christianity through the centuries."
-Philip Jenkins, author of The Lost History of Christianity

"...immediately accessible, helped along by frequent and shrewd linkages to contemporary counterpoints. This presentation includes lots of folk along the way who never made the 'power lists.' Readers will resonate with this inclusiveness and be grateful to Bass for making them fellow travelers in the on-going story."
-Walter Brueggemann, Columbia Theological Seminary

"Charmingly written and refreshing to read, yet rich in details and thorough in its mapping of the major themes and events that have shaped the evolution of the Western Church, A People's History is our story re-told with both clear-eyed affection and a scholar's acumen."
-Phyllis Tickle, author of The Great Emergence

"In this beautifully written history, Diana Butler Bass reveals the living, beating heart of love at the core of Christian faith."
-Sara Miles, author of Take This Bread

"Butler Bass invites us into a deep conversation with the past which thrusts us into the future with hope. A must for Christians and seekers of all stripes..."
-Alan Jones, former dean of Grace Cathedral and author of Reimagining Christianity

"Diana Butler Bass presents a wide diversity of Christian experience in her gallop through two thousand years of history. The curious but hesitant reader who wonders whether Christianity just might have something in it for them will find that the answer is YES."
-Daniel Walker Howe, Pulitzer-Prize-winning author of What Hath God Wrought: The Transformation of America

"The prose is sparkling and the insights are manifold."
-E. Brooks Holifield, Charles Howard Candler Professor, Emory University

"An excellent introduction to grass-roots renewal movements as well as to the various shapes that Christian spirituality has taken through the ages. ...necessary reading for any who may have thought that history is irrelevant for present-day living."
-Justo L. Gonzalez, author of The Story of Christianity

"Intelligent and sassy, honest and redemptive. ...a warning that if we don't remember the blood-stained pages of the past, then we are doomed to repeat them., but also an invitation to participate in the next chapter of what it means to be the Church in this broken world."
-Shane Claiborne, author of The Irresistible Revolution

"...this book is so much more than a wonderful overview of Christian history. It is also a joyful apologetic for a 'new kind of Christianity.' I already gave away my copy, because I knew it would help salvage the faltering faith of a disillusioned friend."
-Brian McLaren, author of Everything Must Change and A New Kind of Christian

"Interesting, insightful, illuminating, and remarkably relevant."
-Marcus Borg, author of The Heart of Christianity

"...a compelling refresher course in our common religious heritage. Bass reacquaints the reader to 2000 years of Christian voices whose faith called for social justice and radical love. By rendering their wisdom accessible, the author encourages the reader to a devotional and ethical renewal that is exhilarating and challenging."
-Paul Brandeis Raushenbush, Ed. Christianity and the Social Crisis for the 21st Century

"With her customary lucidity and charm, this time in the mode of Howard Zinn's historical populism, Diana Butler Bass gives us this splendid account of the grassroots movements that have kept alive the spirit and way of Jesus for 2,000 years . . . enjoyable and illuminating."
-Gary Dorrien, Reinhold Niebuhr Professor of Social Ethics, Union Theological Seminary Professor of Religion, Columbia University

"A People's History of Christianity is just that-a people's history, describing the diversity of Christian thinking, ethics and practices over the centuries, and so important to the renewal of religious imagination today."
-Wade Clark Roof, University of California at Santa Barbara

"Bass presents here a fresh version of church history...a crucial book for churches today..."
-Sojourners

"In a refreshing look at 2,000 years of Christian history from the bottom up, Butler Bass offers unique insights into the spirit has stirred the hearts and minds of faithful people over the centuries and brought renewal to Christianity during periods of upheaval and distress."
-Christian Science Monitor

"[T]he writing here is deeply personal and airily structured. What emerges is a persuasive argument that the real traditions of the church are 'faith, hope, and love entwined.'"
-Washington Post

"For spiritual seekers—whether inside the church or not—and for believers who feel disconnected from their roots, she points the way toward important spiritual resources that have the potential to transform lives, churches and the world as a whole if people are willing to reencounter the riches of the Christian tradition."
-Christian Century
Site and Event Search