The Forgery of Venus LP (Large Print / Paperback, Large Print)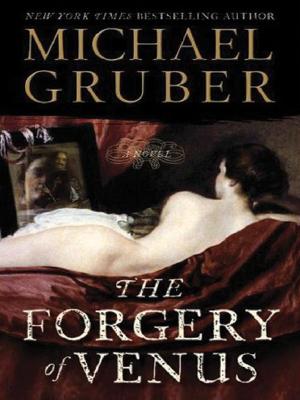 $24.95
Special Order - Subject to Availability
Staff Reviews
---
This is the moving story of a magazine artist's son, who might be creating great works of art, but settles for commercial jobs. He sees himself repeating his father's patterns. Is it a case of "be careful what you wish for" when he is given the opportunity to paint a true master piece for one million dollars? Every page seems lit from within like a Vermeer painting, or a Velázquez. It's a great novel, packed with unpredictable twists through the world of fine art, and through time itself.
—
Bob
Description
---
Chaz Wilmot makes his living cranking out old-master parodies for ads and magazine covers. When he's offered a job restoring a Venetian palace fresco, he is at first, skeptical--he immediately sees it is more a forgery than a restoration. But he is soon seduced by the challenge and throws himself into the work, doing the job brilliantly.
This feat attracts the attention of Werner Krebs, a shady art dealer who becomes Wilmot's friend and patron. Wilmot is suddenly working with a fervor he hasn't felt in years, but without warning, he finds himself reliving moments from his past--not as memories but as if they are happening all over again. Soon, he believes he can travel back to the 17th century where he lived as the Spanish artist Diego Rodriguez de Silva Velazquez. Wilmot begins to fantasize that as Velazquez, he has created a masterpiece and when the painting actually turns up, he doesn't know if he painted it or if he imagined the whole thing.
Little by little, Wilmot enters a secret world of gangsters, greed and murder, with his mystery patron at the center of it all, either as the mastermind behind a plot to forge a painting worth hundred of millions, or as the man who will save Wilmot from obscurity and madness.
Miraculously inventive, this book cements Gruber's reputation as one of the most imaginative and gifted writers of our time.
About the Author
---
New York Times bestselling author Michael Gruber is the author of five acclaimed novels. He lives in Seattle.
Praise For…
---
"Tantalizing...exhilarating. Retains the power from the first chapter to keep readers desperate for the suspenseful, addictive fix of every succeeding one. FORGERY OF VENUS is a highly intelligent novel that entertains and educates."
-USA Today

"Ingenious...The author owns his subject matter and packs it with well-researched details, making this...a successful, suspenseful examination of insanity, forgery and reality."
-Chicago Sun-Times

"(An) imaginative novel of psychological suspense."
-Boston Globe

"Michael Gruber's new thriller, THE FORGERY OF VENUS, is as layered as a luminous portrait by an old master. A tour-de-force combination of suspense and characterization, as well as a primer on the world of art and art forgery."
-Seattle Times

"Gruber writes passionately and knowledgeably about art and its history--and he writes brilliantly about the shadowy lines that blur reality and unreality. Fans of intelligent, literate thrillers will be well rewarded."
-Publishers Weekly (starred review)

"Irresistible. Fast, Frightening and, as usual, richly imagined."
-Kirkus Reviews (Starred Review)

"Gruber writes thrillers for smart people. This novel is about art and creativity. That sounds lofty, but Gruber gives it humor and heart. The ensuing drama, involving a forgery believed to be the work of Diego Velazquez, keeps you on your toes."
-Arizona Republic

"Gruber is on a roll…[a] terrific art-historical thriller…a perfect place to get lost for a few days. Once again, Gruber mines a popular vein and strikes gold."
-Booklist (starred review)

"Smart and literate. Gruber approaches art with obvious appreciation, and has woven a clever story with plenty of detail."
-Wichita Eagle

"A quick and sharp romp through the art world. Downright delicious."
-Seattle Post-Intelligencer

"Gruber writes with a deft hand, creating a fallen hero who is likeable despite his faults."
-Library Journal

"This is an art lover's dream. Mystery and obsession are textured with art history in a plot that explores not only the shifting nature of art, but also the complex nature of identity.
-Milwaukee Journal Sentinel

"Michael Gruber's large and growing number of fans won't be disappointed with his sixth novel, a thriller in the art history vein. He's woven a tale within a tale within a tale, all filled with marvelous twists and turns that build suspense and heighten the mystery until the satisfying conclusion."
-Fort Worth Star-Telegram

"This terrific art thriller has history, thieves, insider snippets and a convoluted plot to keep you guessing."
-Toronto Globe and Mail

"THE FORGERY OF VENUS is the latest in Gruber's series of amazing books. He has applied his deft touch to everything from Shakespeare to shamanism, yielding a finely drawn portrait of an engrossing world every time."
-New Orleans Times-Picayune

"Michael Gruber giv(es) us a finale in which the excitement level is high because we don't know who, if anyone, to trust. It's a satisfying conclusion, one that will leave readers debating the morality of Wilmot's final decision."
-Tampa Tribune

"Stunning...utterly unique, and breathtakingly original. It's one of those novels you want to press upon your friends, fully confident that it will not disappoint. It's a tour de force performance from Gruber, and a novel worthy of considerable attention."
-Edmonton Journal (Canada)

"Michael Gruber has created a first-rate thriller that throws the reader into the art world, past and present."
-Chronicle Herald, Nova Scotia
Site and Event Search