The Ghost Soldiers (Paperback)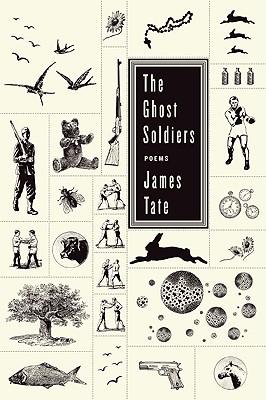 $14.99
Not Available In-Store - Usually Ships from Warehouse in 1-5 Days
Description
---
In this, his fifteenth collection of poetry, Pulitzer Prize-winning poet James Tate continues doing what he does best. His poems are evocative, provocative, funny, subtle, eccentric, occasionally disturbing, and wildly outrageous. Tate's surrealist style strikes its own utterly new and original note in American poetry; as Charles Simic has observed, "To write a poem out of nothng at all is Tate's genius...Just about anything can happen next in this kind of poetry and that is its attraction...He makes me think that anti-poetry is the best friend poetry ever had."
Father's Day
My daughter has lived overseas for a number
of years now. She married into royalty, and they
won t let her communicate with any of her family or
friends. She lives on birdseed and a few sips
of water. She dreams of me constantly. Her husband,
the Prince, whips her when he catches her dreaming.
Fierce guard dogs won t let her out of their sight.
I hired a detective, but he was killed trying to
rescue her. I have written hundreds of letters
to the State Department. They have written back
saying that they are aware of the situation. I
never saw her dance. I was always away at some
convention. I never saw her sing. I was always
working late. I called her My Princess, to make
up for my shortcomings, and she never forgave me.
Birdseed was her middle name.
About the Author
---
James Tate was born in Kansas City, Missouri, in 1943. He is the author of seventeen books of poetry, including Worshipful Company of Fletchers, which won the National Book Award in 1994; Selected Poems, which won the Pulitzer Prize and the William Carlos Williams Award in 1991; and The Lost Pilot, which was selected by Dudley Fitts for the Yale Series of Younger Poets. He has also published a novel and a collection of short stories, as well as edited The 1997 Best American Poetry Anthology. His honors include a National Institute of Arts and Letters Award for Poetry, the Tanning Prize, the Pulitzer Prize, the National Book Award, and fellowships from the Guggenheim Foundation and the National Endowment for the Arts. He teaches at the University of Massachusetts in Amherst.
Site and Event Search