Dust to Dust (Hardcover)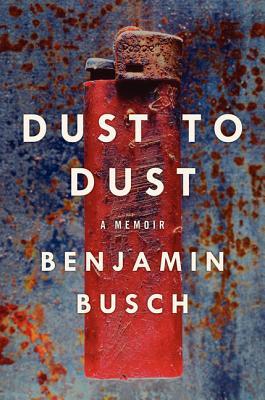 $26.99
Special Order - Subject to Availability
April 2012 Indie Next List
---
"In this powerful memoir, Busch muses on life both concrete and abstract. He traces his life - as a boy, a marine, a son, a father, an actor - through a prism of materials: stone, ash, water, blood, and bone. Each chapter is a different view into the same life, taking us deeper and deeper, letting us up to breathe, then pulling us back down to the heart of things. No matter if he's rebuilding a farmhouse in Michigan or training marines in North Carolina, Busch focuses completely on the moment and takes us there, and then connects us back to the wide world. A book to savor, to appreciate, and to be changed by."
— Kate Reynolds, Colgate Bookstore, Hamilton, NY
Description
---
Dust to Dust is an extraordinary memoir about ordinary things: life and death, peace and war, the adventures of childhood and the revelations of adulthood. Benjamin Buscha decorated U.S. Marine Corps infantry officer who served two combat tours in Iraq, an actor on The Wire, and the son of celebrated novelist Frederick Buschhas crafted a lasting book to stand with the finest work of Tim O'Brien or Annie Dillard.
In elemental-themed chapterswater, metal, bone, bloodBusch weaves together a vivid record of a pastoral childhood in rural New York; Marine training in North Carolina, Ukraine, and California; and deployment during the worst of the war in Iraq, as seen firsthand. But this is much more than a war memoir. Busch writes with great poignancy about the resonance of a boyhood spent exploring rivers and woods, building forts, and testing the limits of safety. Most of all, he brings enormous emotional power to his reflections on mortality: in a helicopter going down; wounded by shrapnel in Ramadi; dealing with the sudden death of friends in combat and of parents back home.
Dust to Dust is an unforgettable meditation on life and loss, and how the curious children we were remain alive in us all.
About the Author
---
Benjamin Busch is a United States Marine Corps infantry officer, photographer, film director, and actor whose many roles have included Officer Anthony Colicchio on the HBO series The Wire. His writing has been featured in Harper's and has been twice nominated for the Pushcart Prize. He has also appeared as a guest commentator on NPR's All Things Considered. He lives on a farm in Michigan with his wife and two daughters.
Praise For…
---
"Beautifully told. . . . There is not one bad sentence in this book. . . . I cannot wait to see what [Busch] writes next."
-Library Journal (starred review)

"Extraordinary. . . . It is impossible to read any part of this work and not be moved. . . . [Dust to Dust] is one to be savored. Don't fail to read it."
-New York Journal of Books

"[Busch's] portrayal of the war in Iraq is unsentimental and immediate."
-New Yorker

"Essential Iraq War reading. . . . The conflict between Busch's pacifist upbringing and his evolution into a decorated Marine rests at the heart of this fine memoir."
-Men's Journal

"Beautifully written. . . . Captivating. . . . It's fascinating to journey through [these] literary landscapes as time passes, swirls back, and eddies like a stream before flowing away."
-Seattle Times

"A beautiful and powerful meditation on combat, profound loss, and mortality."
-Newark Star Ledger

"An invigorating and moving take on the war memoir."
-Wisconsin State Journal

"Busch writes with eloquence about his tours of combat in Iraq, and seamlessly blends the human and natural characteristics of war."
-Minneapolis Star Tribune

"Intriguing. . . . A worthwhile read."
-Buffalo News

"Dust to Dust is not a typical contemporary war memoir. . . . It partakes of the pastoral strain associated with World War I trench-poets like Edmund Blunden and Edward Thomas."
-New York Times Book Review

"[A] must-read memoir."
-Details

"A remarkable book—part military memoir, part childhood reminiscence. . . . Busch is filled with complicated and fascinating contradictions."
-Salon.com

"A beautiful meditation on war, loss, and the larger questions of life and death."
-Huffington Post

"[Busch] writes with the precision of a stonemason, the courage of a combat veteran, and the inquisitiveness of an artist. . . . A haunting meditation on time, memory, and death."
-Baltimore City Paper

"Busch carries us on a haunting, humorous, and poignant journey."
-Publishers Weekly

"Dust to Dust is startlingly good."
-The SunBreak

"A meditation on the literal and figurative borders of life—country to country, river to lake, soil to dust, wood to ash, life to death, blood to bones, child to man—[that] explores the wonders of the natural world and our solitary lives within it."
-Hour Detroit magazine

"Elegiac, funny, wistful, deep, and wonderfully human, Dust to Dust moved me to laughter and tears, sometimes simultaneously. . . . After reading this book, you will want to go outside and really look at our world."
-Karl Marlantes, bestselling author of Matterhorn and What It Is Like to Go to War

"Dust to Dust is a wonderful book, original in concept and stunningly written, a soldier's memoir that is about soldiering and much else besides. The last two dozen pages are a tour de force, a breathtaking meditation on loss and remembrance, dust to dust."
-Ward Just

"Busch is a brilliant prose stylist for whom every pause counts, a man of three worlds—the heart, the mind, the earth. Dust to Dust is a stunning literary work about this mysterious trinity, and a return to home."
-Doug Stanton, bestselling author of Horse Soldiers and In Harm's Way

"This brave soldier with his singular sensibility . . . builds us a fort we're loath to leave."
-Mary Karr, author of The Liars' Club, Cherry, and Lit

"Busch is a poet with the soul of a civil engineer, and for as long as his body sustains him, he is the perfect soldier. I loved every page of this mesmerizing book."
-Bonnie Jo Campbell, bestselling author of Once Upon a River
Site and Event Search