It's Like This, Cat (Paperback)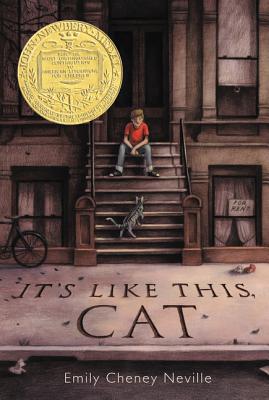 Description
---
My father is always talking about how a dog can be very educational for a boy. This is one reason I got a cat.
Dave Mitchell and his father yell at each other a lot, and whenever the fighting starts, Dave's mother gets an asthma attack. That's when Dave storms out of the house. Then Dave meets Tom, a strange boy who helps him rescue Cat. It isn't long before Cat introduces Dave to Mary, a wonderful girl from Coney Island. Slowly Dave comes to see the complexities in people's lives and to understand himself and his family a little better.
About the Author
---
Emily Neville was born in Manchester, Connecticut, and now lives in New York City. After receiving her A.B. degree from Bryn Mawr College, she worked as a copy-girl for the "New York Daily New" and the "New York Mirror. "Since then she has written many stories about children. "It's Like This, Cat" is her first published novel for young people.
Mrs. Neville is married to a newspaper-man and is the mother of five children, aged six to eighteen.
Site and Event Search