V Is for Vengeance (Compact Disc)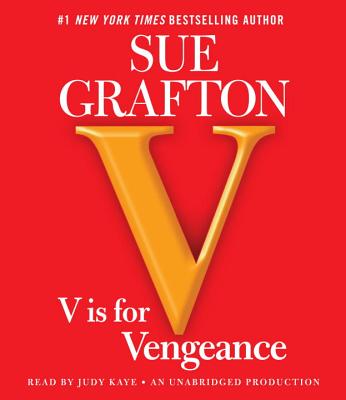 $45.00
Special Order - Subject to Availability
Description
---
A woman with a murky past who kills herself or was it murder? A spoiled kid awash in gambling debt who thinks he can beat the system. A lovely woman whose life is about to splinter into a thousand fragments. A professional shoplifting ring working for the Mob, racking up millions from stolen goods. A wandering husband, rich and ruthless. A dirty cop so entrenched on the force he is immune to exposure. A sinister gangster, conscienceless and brutal. A lonely widower mourning the death of his lover, desperate for answers, which may be worse than the pain of his loss. A private detective, Kinsey Millhone, whose thirty-eighth-birthday gift is a punch in the face that leaves her with two black eyes and a busted nose. And an elegant and powerful businessman whose dealings are defnitely outside the law: the magus at the center of the web. V: Victim. Violence. Vengeance.
About the Author
---
Sue Grafton entered the mystery field in 1982 with the publication of "'A' Is for Alibi", which introduced female hard-boiled private investigator, Kinsey Millhone, operating out of the fictional town of Santa Teresa, (aka Santa Barbara) California. "'B' is for Burglar" followed in 1985 and the series, now referred to as 'the alphabet' mysteries, is still going strong. In addition to her books, she s published several Kinsey Millhone short stories, and with her husband, Steven Humphrey, has written numerous movies for television, including A Killer in the Family (starring Robert Mitchum), Love on the Run (starring Alec Baldwin and Stephanie Zimbalist) and two Agatha Christie adaptations, Sparkling Cyanide and Caribbean Mystery, which starred Helen Hayes. Grafton is published in 28 countries and 26 languages. She loves cats, gardens, and good cuisine. Sue has a home in Montecito, California, and another in Louisville, the city in which she was born and raised.

Judy Kaye s versatile career includes theater, television, and opera. In 2012, she won a Tony award for her role in "Nice Work If You Can Get It". Some of her many Broadway roles include "Mamma Mia!, Ragtime", and "The Phantom of the Opera, " for which she also won a Tony award. Kaye has performed with the New York Philharmonic, the Boston Symphony, the London Symphony, and many other orchestras. A frequent audiobook narrator, she is the voice of Kinsey Millhone in Sue Grafton s alphabetical series.
Site and Event Search