Raw Art Journaling (Paperback)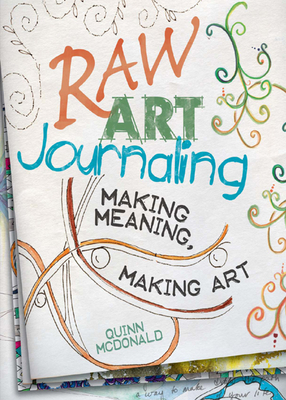 $24.99
Special Order - Subject to Availability
Description
---
Meaning in life is made, not found.
In a raw-art journal, you don't need to know how to draw; you don't need to know how to write well. You don't need worry about messing up techniques you've never attempted before inside your raw-art journal. You just need to be you because raw art is "you" and it thrives on creative play, on experimentation and even on making mistakes.
"Raw Art Journaling" will teach you how to embrace your art, confront negative self-talk (a.k.a., your gremlin) and make meaning with your words and with your art. Inside "Raw Art Journaling" you'll discover how to: Write meaningful thoughts with a single sentenceCreate thought-provoking poems through found poetryUncover images hidden in your photosMake personal meaning with the simplest of linesFinally feel free to make mistakesUse clever techniques to keep your secrets secret
Quiet your gremlin, grab your permission slip (it's on page 19) and start making meaning in your own raw-art journal today.
About the Author
---
Quinn McDonald has experience writing for newspapers, corporations, those in need of speeches, financial firms and marketing companies, and she currently offers creativity tips on her blog. She writes two columns for Stampington: "The Business of Art" in "Somerset Studio" and "The Raw Edge" in "Art Quilt Magazine." Quinn teaches courses on writing for the web, team building, creative thinking for leadership and other custom writing courses, and she is a life and creativity coach.
Site and Event Search