CIVIC TOURISM: The Poetry and Politics of Place
CIVIC TOURISM: THE POETRY AND POLITICS OF PLACE
Civic Tourism by Dan Shilling is in on order and will be ready for immediate order fulfillment shortly.
Civic Tourism: The Poetry and Politics of Place (Trade Paperback)
Our Price: $12.00

Availability: Special Order - Subject to Availability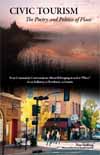 Publisher : Sharlot Hall Museum Press
Published : 01/09/2007
Format : Trade Paperback
ISBN-10 : 092757926X
ISBN-13 : 9780927579261
Tourism is one of the largest and fasted growing industries in the world, with tremendous potential to change the social, economic, and natural landscapes of every place it touches. In this new approach to travel, Dan Shilling encourages communities to "reframe" tourism's purpose, from an end to a means -- from a market-driven growth goal to a tool that can help the public preserve what they love about their place. Shilling encourages communities to ask, "Why do we do tourism?" Are the comings and goings of guests little more than a backdrop for a growth policy that pays slight attention to its costs and consequences? Or can you imagine tourism as an enabler of healthy place-making, as a means to provide the sense of purpose and connection more people seek?

In the book's foreword, Scott Russell Sanders writes: "I believe that civic tourism, rightly pursued, might help us turn toward a saner, kinder, more peaceful and equitable world." Most tourism programs, unfortunately, are stuck in industrial-age thinking, where more is better and economics trumps everything. Typically, distant corporations dictate policy, ignore residents, homogenize experiences, destroy natural and cultural landscapes, and reap profits for themselves, not local economies.

In this groundbreaking book, Shilling suggests another way into the hospitality conversation, incorporating three progressive strategies:
Rethink Economics urges communities to connect tourism planning to "restorative" market policies, such as Richard Florida's "creative economy" and Paul Hawken's "ecological economics."
Connect to the Public recommends engagement practices that foster understanding of and support for a responsible tourism ethic.
Invest in the Story encourages a robust conceptual and financial commitment to place-making.
The book's appendix includes dozens of best practices and suggestions for communities. As Shilling writes, civic tourism is about appreciating tourism as a public good, valuing it as a public responsibility, and practicing it as a public art.
Site and Event Search