THIS EVENT HAS SOLD OUT
If you would like to be added to the waiting list, please call 602.274.0067
Senator Al Franken
Al Franken, Giant of the Senate
3PM SUNDAY, AUGUST 13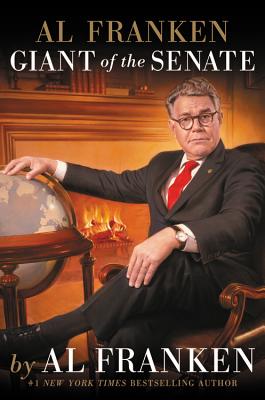 Changing Hands brings #1 bestselling author and beloved SNL alum Senator Al Franken to Phoenix.

Senator Franken shares his memoir – the story of an award-winning comedian who decided to run for office and then discovered why award-winning comedians tend not to do that.
GET YOUR BOOK AND TICKET
Click "add to cart" at the bottom of the page. We'll send you an email confirmation, plus a second email with more details (usually within 24 hours).
TICKET PACKAGES
Seating is general admission and opens at 2pm.
→ Package 1 ($36) One (1) hardcover copy of Giant of the Senate and admission for one (1) person
→ Package 2 ($42) One (1) hardcover copy of Giant of the Senate and admission for two (2) people
Ticket packages include sales tax.
EVENT GUIDELINES
PARKING is available in several lots near the Orpheum. Check out this map for more info »
WILL CALL opens at 2pm outside the auditorium. Please check in here to be admitted into the event.
SEATING is general admission and opens at 2pm.
PICK UP YOUR BOOK at the Orpheum on event day, outside the auditorium between 2 and 3pm.
There will be no meet-and-greet with Senator Franken.
No memorabilia will be signed.
Event guidelines may be subject to changes.
CAN'T MAKE IT?
Click "add to cart" below on the copy of
Al Franken, Giant of the Senate
and we'll have it signed and reserved for you. We also ship anywhere in the US and to most international locations!
ABOUT THE BOOK
This is a book about an unlikely campaign that had an even more improbable ending: the closest outcome in history and an unprecedented eight-month recount saga, which is pretty funny in retrospect.
It's a book about what happens when the nation's foremost progressive satirist gets a chance to serve in the United States Senate and, defying the low expectations of the pundit class, actually turns out to be good at it.
It's a book about our deeply polarized, frequently depressing, occasionally inspiring political culture, written from inside the belly of the beast.
In this candid personal memoir, the honorable gentleman from Minnesota takes his army of loyal fans along with him from
Saturday Night Live
to the campaign trail, inside the halls of Congress, and behind the scenes of some of the most dramatic and/or hilarious moments of his new career in politics.
Has Al Franken become a true Giant of the Senate? Franken asks readers to decide for themselves.
ABOUT THE AUTHOR
Al Franken is an American writer, comedian, and politician. Since 2008, he has been the junior United States Senator from Minnesota. He became well known in the 1970s and 1980s as a writer and performer on the television comedy show
Saturday Night Live
. After decades as a comedic actor and writer, he became a prominent liberal political activist. Franken was first elected to the United States Senate in 2008 in a razor-thin victory over incumbent Republican Senator Norm Coleman, and then won re-election in 2014 over Republican challenger Mike McFadden. Franken is a member of the Minnesota Democratic–Farmer–Labor Party (DFL), an affiliate of the Democratic Party.
Born in New York City, Franken moved to Minnesota when he was four. With his writing partner Tom Davis, with whom he had developed an interest in improvisational theater in high school, he was hired as a writer for
SNL
at its inception in 1975. He worked on the show as a writer and performer until 1980, and returned from 1985 to 1995. After leaving
SNL
, he wrote and acted in movies and television shows. He also hosted a nationally syndicated political radio talk show, The Al Franken Show, and wrote seven books, four of which are political satires critical of conservative politics. His latest book about his time in the Senate was a
New York Times
Fiction Best Seller.