Bodies from the Library 2: Lost Tales of Mystery and Suspense from the Golden Age of Detection (Paperback)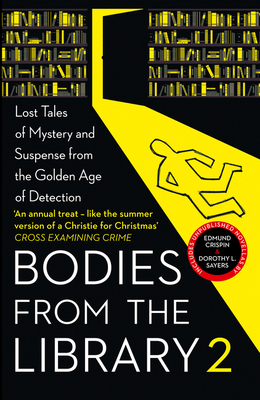 Description
---
This anthology of rare stories of crime and suspense brings together 15 tales from the Golden Age of Detective Fiction for the first time in book form, including newly discovered stories by Dorothy L. Sayers and Edmund Crispin that have never previously been published.
With the Golden Age of detective fiction shining ever more brightly thanks to the recent reappearance of many forgotten crime novels, Bodies from the Library offers a rare opportunity to read lost stories from the first half of the twentieth century by some of the genre's most accomplished writers.
This second volume is a showcase for popular figures of the Golden Age, in stories that even their most ardent fans will not be aware of. It includes uncollected and unpublished stories by acclaimed queens and kings of crime fiction, from Helen Simpson, Ethel Lina White, E.C.R. Lorac, Christianna Brand, Agatha Christie and Dorothy L. Sayers, to S.S. Van Dine, Jonathan Latimer, Clayton Rawson, Cyril Alington and Antony and Peter Shaffer (writing as Peter Antony).
This book also features two highly readable radio scripts by Margery Allingham (involving Jack the Ripper) and John Rhode, plus two full-length novellas - one from a rare magazine by Q Patrick, the other an unpublished Gervase Fen mystery by Edmund Crispin, written at the height of his career. It concludes with another remarkable discovery: 'The Locked Room' by Dorothy L. Sayers, a never-before-published case for Lord Peter Wimsey
Selected and introduced by Tony Medawar, who also provides fascinating pen portraits of each author, Bodies from the Library 2 is an indispensable collection for any bookshelf.
About the Author
---
Editor Tony Medawar is a detective fiction expert and researcher with a penchant for tracking down rare stories. His other collections of previously uncollected stories include WHILE THE LIGHT LASTS (Agatha Christie), THE AVENGING CHANCE (Anthony Berkeley), THE SPOTTED CAT (Christianna Brand), A SPOT OF FOLLY (Ruth Rendell) and THE ISLAND OF COFFINS (John Dickson Carr).