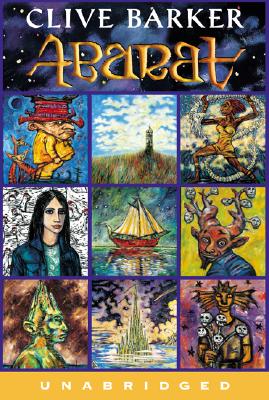 $39.95
Email or call for price.
Other Books in Series
This is book number 1 in the Abarat series.
Description
---
Clive Barker, author of The Thief of Always, delivers an epic battle filled with fantasy and adventure that readers won't want to put down!
A journey beyond imagination is about to unfold...
It begins in Chickentown, USA. There lives Candy Quackenbush, her heart bursting for some clue as to what her future might hold.
When the answer comes, it's not one she expects.
Welcome to the Abarat, a vast archipelago where every island is a different hour of the day. Candy has a place in this extraordinary land: She is here to help save the Abarat from the dark forces that are stirring at its heart—forces older than Time itself, and more evil than anything Candy has ever encountered. She's a strange heroine, she knows. But this is a strange world.
And in the Abarat, all things are possible.
Don't miss this first book in Clive Barker's New York Times bestselling Abarat series.
About the Author
---
Clive Barker is the bestselling author of twenty-two books, including the New York Times bestsellers Abarat; Abarat: Days of Magic, Nights of War; and The Thief of Always. He is also an acclaimed painter, film producer, and director. For twelve years Mr. Barker has been working on a vast array of paintings to illuminate the text of The Books of Abarat, more than one hundred and twenty-five of which can be found within this volume.
Mr. Barker lives in California. He shares his house with seven dogs, three cockatiels, several undomesticated geckoes, an African gray parrot called Smokey, and a yellow-headed Amazon parrot called Malingo.