The Family: The Secret Fundamentalism at the Heart of American Power (Paperback)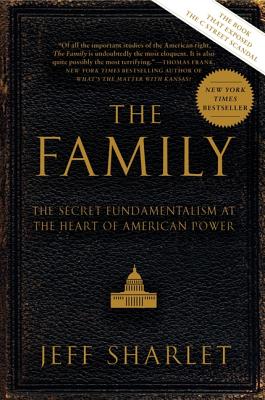 $17.99
Not Available In-Store - Usually Ships from Warehouse in 1-5 Days
Description
---
"Of all the important studies of the American right, The Family is undoubtedly the most eloquent. It is also quite possibly the most terrifying."  — Thomas Frank, New York Times bestselling author of What's the Matter with Kansas?
"A gripping, utterly original narrative about an influential evangelical elite that few Americans even know exists. Jeff Sharlet's fine reporting unveils a group whose history stretches from the corporate foes of the New Deal to the congressional lawmakers who gather each year at the National Prayer Breakfast. The Christian Right will never look the same again."  — Michael Kazin, author of A Godly Hero: The Life of William Jennings Bryan and The Populist Persuasion: An American History
They insist they are just a group of friends, yet they funnel millions of dollars through tax-free corporations. They claim to disdain politics, but congressmen of both parties describe them as the most influential religious organization in Washington. They say they are not Christians, but simply believers.
Behind the scenes at every National Prayer Breakfast since 1953 has been the Family, an elite network dedicated to a religion of power for the powerful. Their goal is "Jesus plus nothing." Their method is backroom diplomacy. The Family is the startling story of how their faith—part free-market fundamentalism, part imperial ambition—has come to be interwoven with the affairs of nations around the world.
About the Author
---
Jeff Sharlet is a visiting research scholar at New York University's Center for Religion and Media. He is a contributing editor for Harper's and Rolling Stone, the coauthor, with Peter Manseau, of Killing the Buddha, and the editor of TheRevealer.org. He lives in Brooklyn, New York.
Praise For…
---
"One of the most compelling and brilliantly researched exposes you'll ever read—just don't read it alone at night!"
— Barbara Ehrenreich, New York Times bestselling author of Nickel and Dimed and Bait and Switch

"Of all the important studies of the American right, THE FAMILY is undoubtedly the most eloquent. It is also quite possibly the most terrifying."
— Thomas Frank, New York Times bestselling author of What's the Matter with Kansas?

"An astounding entrée to a fascinating Christian network unknown to most Americans. . . . A must-read for any American who wants to know who is actually pulling the strings at the highest levels of power."
— Heidi Ewing, co-director Jesus Camp

"This is a gripping, utterly original narrative about an influential evangelical elite that few Americans even know exists. . . . The Christian Right will never look the same again."
— Michael Kazin, author of A Godly Hero: the Life of William Jennings Bryan and The Populist Persuasion: An American History

"[Sharlet] has managed to infiltrate the most influential and secretive fundamentalist network in America, and ground his reporting in the most astute and original explanation of fundamentalism I've ever read. . . . Indispensable."
— Hanna Rosin, former religion reporter for the Washington Post and author of God's Harvard: A Christian College on a Mission to Save the Nation

"I was once an insider's insider within fundamentalism. Unequivocally: Sharlet knows what he's talking about. . . . Those who want to be un-deceived (and wildly entertained) must read this disturbing tour de force."
— Frank Schaeffer, author of Crazy For God: How I Grew Up As One Of The Elect, Helped Found The Religious Right, And Lived To Take All (Or Almost All) Of It Back

"Un-American theocrats can only fool patriotic American democrats when there aren't critics like Jeff Sharlet around—careful scholars and soulful writers who understand both the majesty of faith and the evil of its abuses. A remarkable accomplishment in the annals of writing about religion."
— Rick Perlstein, author of Nixonland: The Rise of a President and the Fracturing of America

"Jeff Sharlet provides a fascinating account of how part of American Christianity has gone off on a dangerous tangent. It should worry everyone—maybe especially those of us who understand the Gospels to be a call to help the powerless, not prop up the powerful."
— Bill McKibben, author of The End of Nature and The Bill McKibben Reader

"Jeff Sharlet is one of the very best writers covering the politics of religion. Brilliantly reported and filled with wonderful anecdotes, THE FAMILY tells the story of an influential group that you haven't previously heard of, and need to know about."
— Ken Silverstein, Washington editor of Harper's and author of The Radioactive Boy Scout

"A brilliant marriage of investigative journalism and history, an unsettling story of how this small but powerful group shaped the faith of the nation in the 20th century and drives the politics of empire in the 21st. Anyone interested in circles of power will love this book."
— Debby Applegate, author of the Pulitzer Prize-winning The Most Famous Man in America: The Biography of Henry Ward Beecher