The Devil's Star: A Harry Hole Novel (Harry Hole Series #5) (Paperback)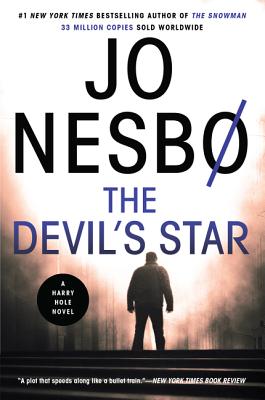 $17.99

Not Available In-Store - Usually Ships from Warehouse in 1-5 Days
Other Books in Series
This is book number 5 in the Harry Hole Series series.
March 2010 Indie Next List
---
"Oslo detective Harry Hole is a great character to follow in this dark, twisted, and intriguing story of a serial killer. This page-turner is a Scnadinavian crime novel at its finest."
— Suzanne Droppert, Liberty Bay Books, Poulsbo, WA
Description
---
"It's fascinating to watch this Norwegian author adapt our homegrown monster [the serial killer] to a foreign culture.... When things go wrong, Harry goes on a bender, but when he's on his game, no one is better than this obsessive detective. He systematically works his way through the intricacies of a plot that speeds along like a bullet train."—New York Times Book Review
Detective Harry Hole is on the trail of a diabolical serial killer terrorizing Oslo in another electrifying thriller in the Harry Hole series from the author of The Snowman.
In the heat of a sweltering Oslo summer, a young woman is found murdered in her flat—with one of her fingers cut off and a tiny red star-shaped diamond placed under her eyelid. An off-the-rails alcoholic barely holding on to his job, Detective Harry Hole is assigned to the case with Tom Waaler, a hated colleague whom Harry believes is responsible for the murder of his partner. When another woman is reported missing five days later, and her severed finger turns up adorned with a red star-shaped diamond ring, Harry fears a serial killer is at work.
But Hole's determination to capture a fiend and to expose Waaler's crimes is leading him into shadowy places where both investigations merge in unexpected ways, forcing him to make difficult decisions about a future he may not live to see.
About the Author
---
A musician, songwriter, and economist, Jo Nesbø is also one of Europe's most acclaimed crime writers, and is the winner of the Glass Key Award, northern Europe's most prestigious crime-fiction prize, for his first novel featuring Police Detective Harry Hole. Nesbø lives in Oslo.
Praise For…
---
"There's Nordic noir, and then there's Nesbo noir. Jo Nesbo's reputation as the reigning bad boy of Norwegian crime fiction has grown steadily in the USA with the critically acclaimed novels The Redbreast and Nemesis and now THE DEVIL'S STAR." — USA Today
"Readers new to this whitehot series will be impressed by Nesbø's generous plotting and his insight into dark places in the human soul." — Kirkus Reviews
"Astonishingly confident. . . . The Devil's Star scores with an intriguing plot and Nesbo's mastery of pace and tension." — The Times (London)
"Jo Nesbø is my new favorite thriller writer and Harry Hole my new hero." — Michael Connelly
"Superb." — Daily Telegraph (London)
"Nesbø has a knack for Euro noir." — Entertainment Weekly
"Nobody can delve into the dark, twisted mind of a murderer better than a Scandinavian thriller writer." — Vogue
"The dense plot is supremely detailed. . . . A crisp, clean translation. . . . Satisfying." — New York Times Book Review
"Readers now can savor NEMESIS. . . . Nesbo's storytelling abilities are incomparable. NEMESIS is crime novel as art form and great entertainment." — USA Today
"A well-crafted rollercoaster of a book. . . . Nesbo sets a cracking pace, the shambolic Hole is exasperating and endearing by turns, and a series of spectacular plot twists lead to a thrilling finale. Highly recommended." — The Guardian (London)
"In crime fiction terms, the ongoing Harry Hole is epic along the lines of something Count Tolstoy might have dreamed up. . . . Tremendous emotional resonance." — Toronto Star
"[A] beautifully executed heist drama. . . . Expertly weaving plot lines from Hole's last outing to feature the inspector, The Redbreast (2007), Nesbo delivers a lush crime saga that will leave U.S. readers clamoring for the next installment." — Publishers Weekly (starred review)
"[A] bold, ambitious thriller. . . . It's well worth sticking with the story; both the hero and the villain are as compelling as the portrayal of Norwegians doing whatever it takes to survive the war and then paying the price. Nesbo bids fair to turn Norway into serious competition for Sweden as Scandinavia's crime center." — Kirkus Reviews
"Nesbo offers up another top-notch mystery thriller, thickly layered, perfectly plotted, and briskly paced to keep readers hooked. With ties to events in The Redbreast, this is an excellent sequel. . . . Recommended for all fiction collections and essential for Scandinavian crime lovers." — Library Journal
"An elegant and complex thriller . . . Ingenious design. . . . Nesbo's book eloquently uses its multiple horrors to advance a disturbing argument: suppressing history is an open invitation for history to repeat itself." — New York Times Book Review
"A fine novel. . . . THE REDBREAST certainly ranks with the best of current American crime fiction." — Washington Post Book World
"Nesbo returns with another novel that is every bit the multitextured, complexly plotted, psychologically rich thriller that made Redbreast such an unqualified success. . . . No doubt about it: Nesbo belongs on every crime-fiction fan's A-list." — Booklist (starred review)
"A gripping tale of political intrigue and sprawling global corruption. . . . With plenty of shootouts and intensely described chase sequences, The Redbreast certainly delivers." — Kirkus Reviews
"A complex tale of murder, revenge and betrayal . . . perfectly paced and painfully suspenseful. . . . Readers will delight in Hole, a laconic hero as doggedly stubborn as Connelly's Harry Bosch, and yet with a prickly appeal all his own." — Publishers Weekly, starred review
"Bucks the trend… Nesbo's long-range plotting is careful, and the debate about the Norwegian elite's behaviour during the war cleverly managed." — London Review of Books
"Jo Nesbo has a credibly scary line on the power of corruption, and his complex plot culminates in a nail-biting episode with overtones of The Day of the Jackal." — The Independent
"Reading THE REDBREAST is like watching a hit movie. . . . The pacing is swift. The plot is precise and intricate. . . . THE REDBREAST is surprisingly witty at times and often grim. But it's always smart." — USA Today
"Searing. . . . Nesbo brilliantly incorporates threads from earlier novels, including Hole's often tumultuous relationship with his lover, Rakel, without ever losing the current story's rhythm. . . . Hole is arguably one of today's most fascinating fictional detectives." — Publishers Weekly (starred review)