Fool CD (Compact Disc)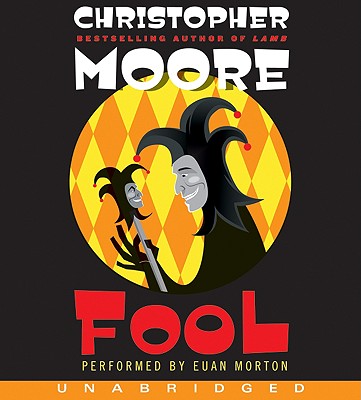 $39.99
Special Order - Subject to Availability
Staff Reviews
---
This is Moore's best one yet! Completely irreverent with a take on Shakespeare that will leaving you laughing out loud and the Bard turning in his grave! The language is rough, but he warns you of that in the beginning of the book. Consider this: when the author's note/warning leaves you chuckling, the book can only get better, and this one does. Read, laugh, laugh again, wipe your eyes, and recommend it to your friends!
—
Stephanie
I'm a huge fan of Christopher Moore. He's yet to write a book I don't like. Moore's novels are populated by such memorable characters as Roberto the Fruit Bat, Molly Michon, and Minty Fresh. None of these compares to Pocket, the star of Fool. I'm a Shakespeare scholar through and through, and Moore quite literally butchers the Bard's work in this parody but it had me rolling with laughter page after page. Moore's incredible characterizations and vivid descriptions make the novel play like a film in the mind while you read it. Moore says it best in the warning at the beginning of the book: "This is a bawdy tale. Herein you will find gratuitous shagging, murder, spanking, maiming, treason, and heretofore unexplored heights of vulgarity and profanity, as well as nontraditional grammar, split infinitives, and the odd wank . . . If that's the sort of thing you think you might enjoy, then you have happened upon the perfect story!"
 
—
Scott
Description
---
Christopher Moore, much beloved scrivener and peerless literary jester, now takes on no less than the legendary Bard himself (with the utmost humility and respect) with a twisted and insanely funny tale of a moronic monarch and his deceitful daughters, as seen through the eyes of a man wearing a codpiece and bells on his head.
Pocket has been Lear's cherished fool for years. So naturally Pocket is at his brainless, elderly liege's side when Lear demands that his kids swear to him their undying love and devotion. Of course Goneril and Regan are only too happy to brownnose Dad. But Cordelia believes that her father's request is kind of . . . well . . . stupid, and her blunt honesty ends up costing her her rightful share of the kingdom and earns her a banishment to boot.
Well now the bangers and mash have really hit the fan. And the only person who can possibly make things right . . . is Pocket. Now he's going to have do some very fancy maneuvering—cast some spells, start a war or two—the usual stuff—to get Cordelia back into Daddy Lear's good graces, to derail the fiendish power plays of Cordelia's twisted sisters, and to shag every lusciously shaggable wench who's amenable to shagging along the way.
Pocket may be a fool . . . but he's definitely not an idiot.