Secondhand Souls: A Novel (Hardcover)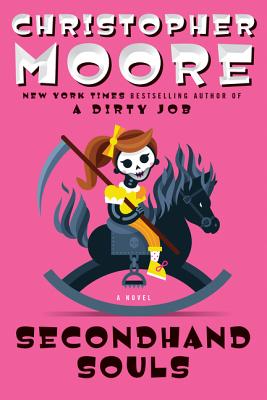 Staff Reviews
---
Sarcastic, snarky, rude, irreverent...it's Chris Moore! The follow up to A Dirty Job brings back the best of the characters and throws them even farther into turmoil about lives biggest problems -- death, kids, mutants, demons and sex. And several of them at one time! If you are expecting the answers the life beyond, this is SO the wrong book. If you are expecting to laugh out loud and learn a new phrase or two (look for the meaning of S-D GT!) read this....READ IT NOW! Even if you haven't read A Dirty Job, you will enjoy this. Then go back and read A Dirty Job!
—
Stephanie
Description
---
In San Francisco, the souls of the dead are mysteriously disappearing—and you know that can't be good—in New York Times bestselling author Christopher Moore's delightfully funny sequel to A Dirty Job.
Something really strange is happening in the City by the Bay. People are dying, but their souls are not being collected. Someone—or something—is stealing them and no one knows where they are going, or why, but it has something to do with that big orange bridge. Death Merchant Charlie Asher is just as flummoxed as everyone else. He's trapped in the body of a fourteen-inch-tall "meat puppet" waiting for his Buddhist nun girlfriend, Audrey, to find him a suitable new body to play host.
To get to the bottom of this abomination, a motley crew of heroes will band together: the seven-foot-tall death merchant Minty Fresh; retired policeman turned bookseller Alphonse Rivera; the Emperor of San Francisco and his dogs, Bummer and Lazarus; and Lily, the former Goth girl. Now if only they can get little Sophie to stop babbling about the coming battle for the very soul of humankind . . .
About the Author
---
Christopher Moore is the author of the novels Secondhand Souls, Sacré Bleu, A Dirty Job, and Lamb. He lives in San Francisco, California.
Praise For…
---
"Writing should be fun. [Moore] takes that to a whole new level. . . .weird, expletive-laden, wildly entertaining . . . the perfect palate cleanser before the fall's literary entrées. . . . You just can't make this stuff up. But Chrisopher Moore can."
— Washington Post

"[F]antastically bizarre . . . wickedly entertaining . . . [a] rollicking ride. . . Moore creates a novel that pulses with its own glowing soul start to finish."
— USA Today (3.5 out of 4 stars)

"Moore has created a world all his own, tackling dark subjects with a light-hearted irreverence. There's a surprising amount of pathos to be found in a story that centers around a squirrel-man with a giant dong. Moore fans, rejoice."
— AV Club

"[A] perfect way to end your summer reading, proving once again that Christopher Moore is one of a kind."
— Huffington Post

"Secondhand Souls is a romping tale… There are some great pairings of characters here, and their relationships hold the whole nutty sequel together."
— Bookreporter.com

"This novel is as zany, heartfelt, irresistible, and flat out as strange as it is billed....Secondhand Souls does not disappoint as a sequel and stands up as a solid novel filled with fun, humor, horror, and a fantastical cast of characters."
— New York Journal of Books

"Secondhand Souls isn't a book you savor. ...This is a binge-reading book, a crazy, fast-paced trip that leaves you satisfied, a little sleepy, and ready for the next installment. I mean, I can't wait to see what happens when Death goes through puberty."
— Dallas Morning News

"Disturbingly hilarious. And vice versa."
— Jenny Lawson, #1 New York Times bestselling author of Let's Pretend This Didn't Happen