Marvel Comics: The Untold Story (Paperback)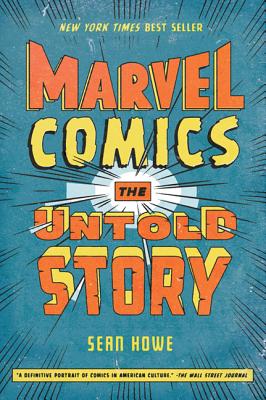 $15.99
Not Available In-Store - Usually Ships from Warehouse in 1-5 Days
Staff Reviews
---
Lies, deceit, grandstanding, backroom deals, backstabbing, and the creation of some of the most iconic characters and story-lines in modern history. This is the history of Marvel Comics. Author Sean Howe takes us through over a century, from the very beginning in a dingy office all the way to present day with Marvel owned by the monster corporation Disney. The strength of this book is that its interest is in the artists and the writers rather than exhausting us with the history of the characters, which any good comic fan already knows anyway, and Howe presents this refreshingly devoid of sentimentality. The artists and the writers come, they leave, and come back. They quit in grand gestures, as stances against exploitation of the creative staff, sometimes solitary and sometimes in groups, usually returning because there are just not that many paying gigs for that trade. Their professional lives parallel the comics they write. The superheroes that die and come back and are stuck in stasis are really the creators who keep telling their stories. On the surface there is no permanence in their world, but really it's only the illusion of change.
—
Danny
Description
---
"Sean Howe's history of Marvel makes a compulsively readable, riotous and heartbreaking version of my favorite story, that of how a bunch of weirdoes changed the world...That it's all true is just frosting on the cake."
--Jonathan Lethem
"Exhaustively researched and artfully assembled, this book is a historical exploration, a labor of love, and a living illustration of how the weirdest corners of the counterculture can sometimes become the culture-at-large."
-- Chuck Klosterman
In the early 1960s, Marvel Comics introduced a series of bright-costumed superhero characters--including Iron Man, the Hulk, Thor, the X-Men, the Fantastic Four, Daredevil, and the Amazing Spider-Man--that would evolve into a modern American mythology for millions of readers. Over the last half-century, these characters have been passed along among generations of brilliant editors, artists, and writers who struggled with commercial mandates, a fickle audience, and, over matters of credit and control, one another. Written by Sean Howe, former comic book reviewer and editor at Entertainment Weekly, Marvel Comics: The Untold Story is a gripping narrative of one of the most extraordinary, beloved, and beleaguered pop cultural entities in America's history.