For Darkness Shows the Stars (Paperback)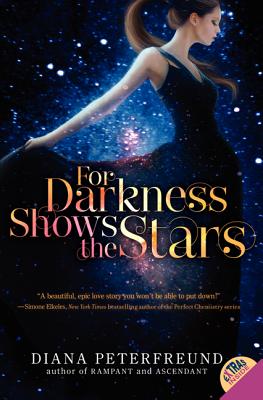 $10.99

Special Order - Subject to Availability
Staff Reviews
---
Elliot North refused to run away with her childhood friend, Kai, four years ago. Since then, she has been kept busy on the family estate quietly keeping it above water, and secretly engineering illegally enhanced grain. But when Kai returns with new friends in high places and as the captain of the famous Fleet, the distance between the two old acquaintances proves to be ever-growing, and regrets from those years ago keep them at an uncomfortable distance. For Darkness Shows the Stars is one of my favorite reads this year! It's the kind of book with good writing that allows you to read straight through without even noticing the pages turning. I recommend this to fans ofObernewtyn and Jane Austen; it's the perfect retelling of Persuasion with an exciting dystopian twist.
—
Leah's Staff Picks
Description
---
Fans of Divergent will love Diana Peterfreund's take on Jane Austen's Persuasion set in a post-apocalyptic world.
 
In the dystopian future of For Darkness Shows the Stars, a genetic experiment has devastated humanity. In the aftermath, a new class system placed anti-technology Luddites in absolute power over vast estates—and any survivors living there.
 
Elliot North is a dutiful Luddite and a dutiful daughter who runs her father's estate. When the boy she loved, Kai, a servant, asked her to run away with him four years ago, she refused, although it broke her heart.
 
Now Kai is back. And while Elliot longs for a second chance with her first love, she knows it could mean betraying everything she's been raised to believe is right.
 
For Darkness Shows the Stars is a breathtaking YA romance about opening your mind to the future and your heart to the one person you know can break it.
About the Author
---
Diana Peterfreund is the author of many books for adults and children, including the critically acclaimed For Darkness Shows the Stars and Across a Star-Swept Sea. She lives with her family outside Washington, DC, in a house full of bookshelves, and is always on the lookout for lost cities or stray rocket ships.
Praise For…
---
"Will be a hit with fans of sci-fi romances… Readers will keep turning the pages right up to the end." — School Library Journal (starred review)
"Dystopian, ideological, rebellious-Peterfreund's fantasy homage to Austen's Persuasion departs from the original in many respects, and with great success …. a richly envisioned portrait of a society in flux, a steely yet vulnerable heroine, and a young man who does some growing up." — Publishers Weekly
"Diana Peterfreund's For Darkness Shows the Stars is an impassioned ode to Jane Austen, love, and the hope found in stars." — Beth Revis, New York Times bestselling author of ACROSS THE UNIVERSE and A MILLION SUNS
"Succeeds in recasting Austen's characters to bring her themes to a futurist society and provide wry comment on life in the twenty-first century …. will appeal to science fiction and romance fans alike. — Voice of Youth Advocates (VOYA)
"A beautiful, epic love story you won't be able to put down!" — Simone Elkeles, New York Times bestselling author of the Perfect Chemistry series
"Don't you love it when a brilliant idea meets with brilliant execution? Thank you, Diana Peterfreund for giving us a post-apocalyptic Persuasion. This book is meltingly good." — Laini Taylor, National Book Award Finalist for LIPS TOUCH: THREE TIMES
"A smart and sexy tale of star-crossed love that's as thought-provoking as it is heartbreaking." — Robin Wasserman, author of THE BOOK OF BLOOD AND SHADOW
Praise for ASCENDANT: "In this thrilling sequel to Peterfreund's Rampant...the strong yet vulnerable heroine, compelling conflicts, and exquisite settings should find a voracious audience in those familiar with the first installment." — Publishers Weekly
Praise for ASCENDANT: "Peterfreund is sure to gain a stronger following with Ascendant, and fans will eagerly await further titles in the series." — School Library Journal
Praise for ASCENDANT: "Ascendant is fast paced, fresh and engrossing—plus it has killer unicorns, what could be better? I love this book!" — Carrie Ryan, New York Times bestselling author of The Forest of Hands and Teeth and The Dead-Tossed Waves Carrie Ryan, New York Times bestselling author of THE FOREST OF HANDS AND TEETH
Praise for ASCENDANT: "I was riveted by Ascendant. It's not only about killer unicorns; it's also about finding the courage to make tough decisions—and to be true to yourself. I think Astrid rocks!" — Malinda Lo, author of ASH