A Darkness Strange and Lovely (Hardcover)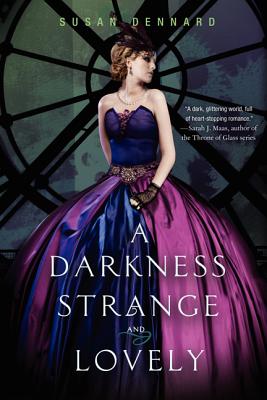 Other Books in Series
This is book number 2 in the Something Strange and Deadly Trilogy series.
Description
---
Perfect for fans of Libba Bray's The Diviners and Cassandra Clare's The Infernal Devices series, this spellbinding sequel to Something Strange and Deadly delivers a mix of supernatural forces and intense romance, set against the enchanting backdrop of nineteenth-century Paris.
With her brother dead and her mother insane, Eleanor Fitt is alone. Even the Spirit-Hunters—Joseph, Jie, and the handsome Daniel—have fled to Paris. So when Eleanor hears the vicious barking of hounds and sees haunting yellow eyes, she fears that the Dead, and the necromancer Marcus, are after her.
To escape, Eleanor boards a steamer bound for France. There she meets Oliver, a young man who claims to have known her brother. But Oliver harbors a dangerous secret involving necromancy and black magic that entices Eleanor beyond words. If she can resist him, she'll be fine. But when she arrives in Paris, she finds that the Dead have taken over, and there's a whole new evil lurking. And she is forced to make a deadly decision that will go against everything the Spirit-Hunters stand for.
In Paris, there's a price for this darkness strange and lovely, and it may have Eleanor paying with her life.
About the Author
---
Susan Dennard is a writer turned marine biologist turned writer again. The Something Strange and Deadly trilogy is her debut. Among the traits she shares with her heroine Eleanor are a weakness for Shakespeare quotes, a healthy appetite for baked goods, and an insatiable curiosity. Sadly, Susan does not get to wear a corset or wave a parasol on a daily basis.
Praise For…
---
"A dark, glittering world, full of unforgettable characters, swashbuckling action, and heart-stopping romance. Susan Dennard's books now have a permanent place on my All-Time Favorites shelf!" — Sarah J. Maas, author of The Throne of Glass series
Praise for SOMETHING STRANGE AND DEADLY — ;
"Thrilling, charming, and dark, Something Strange and Deadly is a delicious sandwich of harmonious flavors. I fell for Daniel, I soaked in the zombie mayhem with glee, I delighted in the steampunk fashion and gadgetry. If you enjoyed The Clockwork Angel, you'll love this. Fantastical fun." — Marie Lu, author of the Legend trilogy
"Mystery, romance, humor, action, a sure-fire setting: Dennard delivers." — Kirkus Reviews
"From the first page, readers will be awakened to an 1876 Philadelphia replete with animated corpses, irresistible romance and a game of intrigue. Those who enjoy Cassandra Clare's the Infernal Devices series will be spellbound by Dennard's macabre and impressive debut." — Shelf Awareness
"Debut author Dennard deftly weaves together a vast plot blending historical fiction, horror, romance, and mystery. A roaring-and addictive-gothic world." — Publishers Weekly
"This debut novel is quite compelling and features a plot that moves at breakneck speed. The plot is full of action, betrayal, and romance." — Voice of Youth Advocates (VOYA)
"A wonderfully brisk pace sweeps readers into an intriguing mystery. Eleanor serves as a highly entertaining guide and readers will find themselves settling in among the undead just fine." — Bulletin of the Center for Children's Books