The Golem and the Jinni: A Novel (Paperback)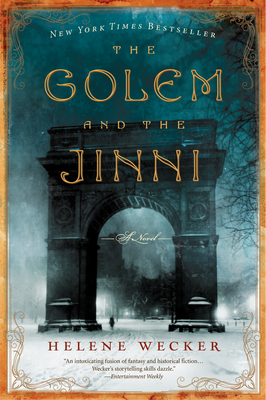 Staff Reviews
---
Have you ever read a book that was so good you didn't want it to end? That is how I felt about The Golem and the Jinni. I read each page, at once entranced by the amazing story and well-written characters, while also saddened that each page brought me closer to the end. Wecker weaves together a beautiful story, full of complex and interesting characters, poignant moments, inner struggle, and one of the most perfect endings I've ever read. She expertly blends the realms of magic and imagination with the world of turn-of-the-century New York City. Perfect for lovers of imaginative fiction, or anyone who enjoys a good story, The Golem and the Jinni will not disappoint.
—
JESSIE'S STAFF PICKS
A woman fashioned from mud by a Jewish magician and a jinni under a spell who can only access a fraction of his natural powers--each of these fantastical but believable creatures must find themselves a way to survive in New York City--she among the Orthodox Jews, he among the Muslim immigrant community. At the start, their stories are told in parallel narratives, but there's no doubt that the threads will connect and intertwine before too long. A totally absorbing tale of alienation, compassion, frustration, suspense, and romance. Enhanced by a memorable cast of supporting actors, we are given deep insights into the Islamic and Judaic traditions plus a helluva good read.
—
BOB'S STAFF PICKS
May 2013 Indie Next List
---
""
— Nick Petrulakis, Books Inc., Alameda, CA
Description
---
"An intoxicating fusion of fantasy and historical fiction. . . . Wecker's storytelling skills dazzle." —Entertainment Weekly
A marvelous and absorbing debut novel about a chance meeting between two supernatural creatures in turn-of-the-century immigrant New York. 

Chava is a golem, a creature made of clay by a disgraced rabbi knowledgeable in the ways of dark Kabbalistic magic. She serves as the wife to a Polish merchant who dies at sea on the voyage to America. As the ship arrives in New York in 1899, Chava is unmoored and adrift until a rabbi on the Lower East Side recognizes her for the creature she is and takes her in.
Ahmad is a jinni, a being of fire born in the ancient Syrian desert and trapped centuries ago in an old copper flask by a Bedouin wizard. Released by a Syrian tinsmith in a Manhattan shop, Ahmad appears in human form but is still not free. An iron band around his wrist binds him to the wizard and to the physical world.
Chava and Ahmad meet accidentally and become friends and soul mates despite their opposing natures. But when the golem's violent nature overtakes her one evening, their bond is challenged. An even more powerful threat will emerge, however, and bring Chava and Ahmad together again, challenging their very existence and forcing them to make a fateful choice.
Compulsively readable, The Golem and the Jinni weaves strands of Yiddish and Middle Eastern literature, historical fiction and magical fable, in a wondrously inventive tale that is mesmerizing and unforgettable.
About the Author
---
Helene Wecker received a BA from Carleton College in Minnesota and an MFA from Columbia University in New York. A Chicago-area native who has made her home in Minneapolis, Seattle, and New York, she now lives near San Francisco with her husband and daughter. The Golem and the Jinni is her first novel.
Praise For…
---
"Set against the vivid backdrop of New York City's immigrant neighborhoods in the late 19th century, Helene Wecker's tale of two fabled creatures has the intimate feel of a story handed down from generation to generation. With a delightful blend of the prosaic and the fanciful, The Golem and the Jinni explores what it means to be human as Chava and Ahmad struggle to live and find love while overcoming the powerful adversary who threatens to destroy them."
— Deborah Harkness, author of A Discovery of Witches

"Original and fresh. . . . A fascinating blend of historical fiction and Jewish and Arab folklore"
— Library Journal

"[A] spellbinding blend of fantasy and historical fiction."
— Publishers Weekly

"The premise is so fresh. . . . A mystical and highly original stroll through the sidewalks of New York."
— Booklist

"Wecker begins with a juicy premise. . . and great adventures ensue. . . . She writes skillfully, nicely evoking the layers of alienness that fall upon strangers in a strange land."
— Kirkus Reviews

"Magical thinking comes alive in an enchanting allegory of the immigrant experience as two mythical beings try to make sense of themselves and the world around them."
— Family Circle Magazine

"THE GOLEM AND THE JINNI is recommended to adults who enjoy a good story and have a childlike sense of make-believe."
— New York Journal of Books

"It sounds like the setup for a really strange joke: 'A golem and a jinni walk into a bakery in early 19th-century New York....' But this debut novel—part fantastic tale, part historical fiction—is one of the most highly anticipated fiction releases of the spring."
— Christian Science Monitor

"The most exciting fantasy debut since Susanna Clarke's Jonathan Strange & Mr. Norell. Helene Wecker must be a born writer; there is no other way to account for the quality of her prose, as phenomenal as any of the supernatural wonders she delivers in the glorious The Golem and the Jinni."
— BookPage

"In the best instances, you don't merely read a book—you dive in and happily immerse yourself, forgetting the troubles of daily life for a while. The Golem and the Jinni offers just such an absorbing experience. "
— USA Today

"One of the joys of the novel is in watching two strangers develop a relationship that, while it's rooted in their shared magical natures, echoes the way ordinary humans can form bonds starting with a random encounter on a busy street."
— Dallas Morning News

"An intoxicating fusion of fantasy and historical fiction. . . . Wecker's storytelling skills dazzle…The book's magic, filtered through the old-time hustle and bustle of the Lower East Side, lingers long after the final page." Grade: A
— Entertainment Weekly

"The tale is meant to be magical, and it is, but Wecker's real sleight of pen is recreating Manhattan as it was then. She has a historian's grasp of detail and a novelist's flair."
— New York Daily News

"The author makes you care enough about the humanity of these magical spirits to not only see them through to the end but also to regret that you've reached the last page."
— New York Times

"From its eerie opening pages to its shattering conclusion, The Golem and the Jinni is an astonishing debut novel that sweeps us into a gaslit alternate reality rich enough to get lost in."
— Tom Reiss, author of The Orientalist and The Black Count


"A dazzling debut…You'll be hooked by the vivid interplay of historical fiction, magical fable, and philosophical musing and the colorful supporting cast…Read it in one long, guilt-free gulp (it's serious literature!)."
— San Francisco magazine

"Wecker maintains her novel's originality as she orchestrates a satisfying and unpredictable ending. The Golem and the Jinni is a continuous delight — provocative, atmospheric, and superbly paced. "
— Boston Globe

"History, magic and religion braid together in old New York's tenements. . . . The interplay of loyalties and the struggle to assert reason over emotion keep the pages flipping."
— New York Times Book Review

"An inventive and utterly lovely story. . . . The golem and the jinni. . . are among my favorite fictional people I spent time with this spring. . . . Wecker is a gifted new voice. . . . I'm glad that her talents have been set free in this novel."
— Chris Bohjalian, Washington Post

"Inventive, elegantly written and well-constructed…It's hard to believe this is a first novel. Clearly, otherworldly forces were involved…the story is so complex and intricately woven that it does not lend itself to summary. It would be like pulling threads from a finely crafted garment to describe the whole."
— Minneapolis Star Tribune

"Her story is so inventive, so elegantly written, so well-constructed, it is hard to believe that it is her first novel. . . . The book is so good that I wonder if there was some other-worldly power involved in its creation."
— Jewish Daily Forward