Wish You Happy Forever: What China's Orphans Taught Me About Moving Mountains (Hardcover)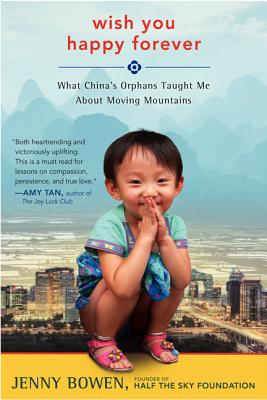 $25.99

Special Order - Subject to Availability
Description
---
Wish You Happy Forever chronicles Half the Sky founder Jenny Bowen's personal and professional journey to transform Chinese orphanages—and the lives of the neglected girls who live in them—from a state of quiet despair to one of vibrant promise.
After reading an article about the thousands of baby girls languishing in Chinese orphanages, Bowen and her husband adopted a little girl from China and brought her home to Los Angeles, not out of a need to build a family but rather a commitment to save one child. A year later, as she watched her new daughter play in the grass with her friends, thriving in an environment where she knew she was loved, Bowen was overcome with a desire to help the children that she could not bring home. That very day she created Half the Sky Foundation, an organization conceived to bring love into the life of every orphan in China and one that has actually managed to fulfill its promise.
In Wish You Happy Forever, a fish out of water tale like no other, Bowen relates her struggle to bring the concept of "child nurture and responsive care" to bemused Chinese bureaucrats and how she's actually succeeding. Five years after Half the Sky's first orphanage program opened, government officials began to mention child welfare and nurturing care in public speeches. And, in 2011, at China's Great Hall of the People, Half the Sky and its government partners celebrated the launch of The Rainbow Program, a groundbreaking initiative to change the face of orphan care by training every child welfare worker in the country. Thanks to Bowen's relentless perseverance through heartbreak and a dose of humor, Half the Sky's goal to bring love the lives of forgotten children comes ever closer.
About the Author
---
Jenny Bowen, a former screenwriter and filmmaker, is the founder and CEO of Half the Sky, an organization dedicated to reimagining care for orphaned Chinese children. Bowen received the American Chamber of Commerce's Women of Influence Entrepreneur of the Year Award in 2007 and the Skoll Award for Social Entrepreneurship in 2008.
Praise For…
---
"Bowen's remarkable narrative illustrates how dedication, compassion and love can create enormous change against incredible odds." — Publishers Weekly
"Memorable and moving, Bowen's story is a gift straight from the heart." — Kirkus Reviews
"Both heartrending and victoriously uplifting, Wish You Happy Forever provides the backdrop on the lives of thousands of orphan girls and their foster grandmothers, teachers, volunteers, donors, and the ever-grateful adoptive parents. This is a must read for lessons on compassion, persistence, and true love." — Amy Tan, bestselling author of The Joy Luck Club
"Jenny Bowen is a brilliant and amazing person. Her work and writing are great, profound and inspiring." — Anne Lamott
"An astonishing and inspiring tribute to the power of human imagination harnessed to passion and purpose." — Jane Pauley
"The hopeful smiles of a million waiting children shine from the pages of Jenny Bowen's writing. This compelling story is a page turning must-read of breaking down barriers as one woman embarks on the monumental quest of building families, forever." — Nia Vardalos, author of Instant Mom
"An inspiring story of triumph in the face of struggle, Bowen's lyrical prose and her remarkable journey transforming Chinese orphanages amidst government bureaucracy, earthquakes, snowstorms, and more, is a testament to the power of perseverance." — Dr. Larry Brilliant