Congo: The Epic History of a People (Paperback)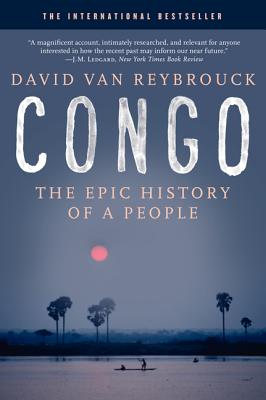 $19.99

Not Available In-Store - Usually Ships from Warehouse in 1-5 Days
Description
---
From the beginnings of the slave trade through colonization, the struggle for independence, Mobutu's brutal three decades of rule, and the civil war that has raged from 1996 to the present day, Congo: The Epic History of a People traces the history of one of the most devastated nations in the world. Esteemed scholar David Van Reybrouck balances hundreds of interviews with a diverse range of Congolese with meticulous historical research to construct a multidimensional portrait of a nation and its people.
Epic in scope yet eminently readable, both penetrating and deeply moving, Congo—a finalist for the Cundill Prize—takes a deeply humane approach to political history, focusing squarely on the Congolese perspective, and returns a nation's history to its people.
About the Author
---
David Van Reybrouck is an award-winning author, acclaimed playwright, reporter, and poet who holds a doctorate from Leiden University. He has traveled extensively throughout Africa and has been actively involved in organizing literary workshops for young Congolese writers. He lives in Brussels.
Praise For…
---
"This is a magnificent account, intimately researched, and relevant for anyone interested in how the recent past may inform our near future… Van Reybrouck's bibliography alone is worth the cover price. But what distinguishes the book is its clearheadedness." — New York Times Book Review
"Balancing research with personal testimonies, Van Reybrouck . . . presents a panoramic account of Congo's turbulent past." — New York Times Book Review: Paperback Row
"A vivid panorama of one of the most tormented lands in the world… A valuable addition to the rich literature that Congo has inspired." — Washington Post
"Van Reybrouck's carefully researched and elegantly written book takes in the reader with compelling portraits of ordinary people that enrich what would otherwise be a fairly conventional historical narrative." — Foreign Affairs
"A magnificent, epic look at the history of the region… A monumental contribution to the annals of Congo scholarship." — The Christian Science Monitor
"[A] detailed and well-researched biography, thoroughly rooted in the lived experience of the Congolese… It is clear that the author is not your typical historian dryly publishing his findings, but a literary artist with a pen almost as sharp as Lumumba's tongue." — ThinkAfricaPress.com
"... a compelling mixture of literary and oral history that delivers an authentic story of how European colonialism, African resistance, and the endless exploitation of natural resources affected the lives of the Congolese." — Booklist
"Van Reybrouck's extensive account reveals the depth and breadth of exploitation, particularly under Belgian colonial rule, and how Congo's story is one fraught with the toxic cycle of 'desire, frustration, revenge.'" — Publishers Weekly
"Van Reybrouck makes a good case for the importance of Congo to world history and its ongoing centrality in a time of resurgent economic colonialism, this time on the part of China. — Kirkus Reviews
"a monumental history . . . more exciting than any novel." — NRC Handelsblad
"An unbelievable tour de force." — Humo
"An absolute masterpiece!" — VPRO Radio
"Breathtaking." — Trouw
"Van Reybrouck tells his story . . . through numerous astute and intelligent voices of the Congo citizens and storytellers. . . . [Van Reybrouck] is not just an historian but a significant ethnographer who deeply cares about the people whose history he is narrating." — Rain Taxi
"If you are looking to read one book on Congo this year, this is it. David Van Reybrouck combines deep historical investigation with extensive ethnography. The result is an illuminating narrative." — Mahmood Mamdani, Director of the Makerere Institute of Social Research and author of Good Muslim, Bad Muslim
"A well-documented and passionate narrative which reads like a novel. [..] As an eye, a judge, and a witness, a talented writer testifies." — V.Y.M. Mudimbe, author of The Invention of Africa
"Congo is a remarkable piece of work. Van Reybrouck [keeps] a panoramic history of a vast and complex nation accessible, intimate and particular." — Michela Wrong, author of In the Footsteps of Mr. Kurtz