The Book of Forgiving: The Fourfold Path for Healing Ourselves and Our World (Paperback)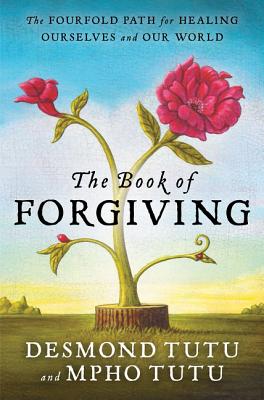 Description
---
Archbishop Desmond Tutu, Nobel Peace Prize winner, Chair of The Elders, and Chair of South Africa's Truth and Reconciliation Commission, along with his daughter, the Reverend Mpho Tutu, offer a manual on the art of forgiveness—helping us to realize that we are all capable of healing and transformation.
Tutu's role as the Chair of the Truth and Reconciliation Commission taught him much about forgiveness. If you asked anyone what they thought was going to happen to South Africa after apartheid, almost universally it was predicted that the country would be devastated by a comprehensive bloodbath. Yet, instead of revenge and retribution, this new nation chose to tread the difficult path of confession, forgiveness, and reconciliation.
Each of us has a deep need to forgive and to be forgiven. After much reflection on the process of forgiveness, Tutu has seen that there are four important steps to healing: Admitting the wrong and acknowledging the harm; Telling one's story and witnessing the anguish; Asking for forgiveness and granting forgiveness; and renewing or releasing the relationship. Forgiveness is hard work. Sometimes it even feels like an impossible task. But it is only through walking this fourfold path that Tutu says we can free ourselves of the endless and unyielding cycle of pain and retribution. The Book of Forgiving is both a touchstone and a tool, offering Tutu's wise advice and showing the way to experience forgiveness. Ultimately, forgiving is the only means we have to heal ourselves and our aching world.
About the Author
---
Desmond Mpilo Tutu was awarded the Nobel Peace Prize in 1984. In 1986 he was elected archbishop of Cape Town, the highest position in the Anglican Church in South Africa. In 1994, after the end of apartheid and the election of Nelson Mandela, Tutu was appointed as chair of South Africa's Truth and Reconciliation Commission to investigate apartheid-era crimes. His policy of forgiveness and reconciliation has become an international example of conflict resolution and a trusted method of postconflict reconstruction. He is currently the chair of The Elders, where he gives vocal defense of human rights and campaigns for the oppressed.
The Reverend Mpho A. Tutu is currently the executive director of The Desmond and Leah Tutu Legacy Foundation.
Praise For…
---
"A primer for not only finding the path for healing ourselves and the world, but for restoring balance in our biology, mind, and spirit." — Deepak Chopra, author of What Are You Hungry For?
"Includes instructions on how to forgive, as well as scientific and moral reasons to do so. No one is unforgiveable; it takes a moral icon such as Tutu to credibly assert this. . . . This book belongs on nightstands, shelves, and altars everywhere." — Publishers Weekly (starred review)
"There is no one who embodies the virtue of forgiveness like Desmond Tutu. With this book, he and his daughter take forgiveness out of the realm of mystery and offer a handbook on forgiveness, revealing this most exacting and freeing of human capacities in all its complexity and transformative achievability." — Krista Tippett, Host/Executive Producer of On Being
"What better guides and teachers on forgiveness than Bishop Tutu and his daughter who have lived faithfully through the hardest most demanding days of South Africa! This book meets an urgent need among us, and does so with wisdom, realism, and generosity." — Walter Brueggemann, author of The Prophetic Imagination
"Desmond Tutu shows each of us how to transform our pain and sorrow into hope and confidence in the future. Whether you are the head of a country or the head of a household, you will cherish his words." — Nelson Mandela, former president of South Africa and Nobel Peace Prize recipient
"For decades [Tutu] has been a moral titan—a voice of principle, an unrelenting champion of justice, and a dedicated peacemaker . . . an outspoken voice for freedom and justice in countries across the globe; a staunch defender of the rights of lesbian, gay, bisexual and transgender persons." — President Barack Obama
"[Tutu's] unofficial legacy will be his life and the story of how this tiny pastor with a huge laugh from South Africa became our global guardian." — TIME
"Archbishop Tutu has the ability to see our shared humanity in each person he meets, and to get us to do the same." — Bill Clinton
"Archbishop Desmond Tutu, like Dr. Martin Luther King, Jr. before him, has offered us a luminous vision of love and hope. With his great warmth and compassion, Archbishop Tutu offers a spiritual message that if heeded can change lives as well as history." — Jimmy Carter
"I have the highest regard for my good and trusted friend Archbishop Desmond Tutu. I admire him for the wonderful, warm person he is and especially for the human principles he upholds." — His Holiness the Dalai Lama
"One thing I have learned from [Tutu] . . . is that he has that constant and persistent faith that things can be better and we can do something about it. We should not find excuses not to act or not to speak out." — Kofi Annan, former secretary-general of the United Nations and winner of the Nobel Peace Prize in 2001
"Desmond Tutu has walked the talk all his adult life. We can all be grateful that, together with his daughter Mpho, he has now shared his secrets for why he has so much hope and joy." — Mary Robinson, former president of Ireland
"I doubt there is anyone on this Earth with a deeper sense of God's presence and goodness than Archbishop Tutu." — Thomas Cahill, author of How the Irish Saved Civilization and The Gifts of the Jews.
"[Tutu] was not just an anti-apartheid worker. . . . He was somebody who had thought very deeply about spiritual values and had applied them to what he was doing. In some ways that reminded me of Gandhi." — Daw Aung San Suu Kyi, winner of the Nobel Peace Prize
"Bishop Tutu and his daughter Mpho reveal groundbreaking insights as to how to acknowledge and resolve our lifelong burdens of anguish and pain towards a new paradigm of transformative healing." — Annie Lennox
"I am lost for words to express my appreciation for this book … Desmond Tutu and his daughter show clearly that suffering, while always painful, need not destroy." — Terry Waite, CBE