On the Rocks: A Novel (Paperback)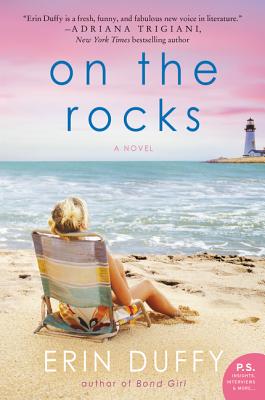 $14.99

Special Order - Subject to Availability
Description
---
Ever since she was a little girl, Abby Wilkes has dreamed of her wedding, the day when she'd wear a pretty white dress and look like a princess. . . .
That was before her life fell apart in front of the whole world. Her longtime boyfriend-turned-fiancé, Ben, unceremoniously dumped her—by changing his status to single on Facebook—while she was trying on the most gorgeous Vera Wang dress for the big day.
Worried, her best friend, Grace, devises the perfect plan to get Abby back on her game. The two of them are going to escape sweltering Boston and its constant reminders of Ben and head to Newport for the summer. In a quaint rented cottage by the sea, Grace is confident the girls will enjoy cool breezes, cocktails, and crowds of gorgeous men.
But Abby and Grace discover that in this era of social media there is no real escape. Dating has never been easy. But now that the rules have changed and the boundaries are blurred beyond recognition, will they ever find true love? And if they do, how can romance stand a chance when a girl's every word and move can go viral with a single click?
As the summer winds down to Labor Day, Abby will make some surprising discoveries—about love, men, friendship . . . and, most important, herself.
About the Author
---
Erin Duffy graduated from Georgetown University with a B.A. in English and worked on Wall Street, a career that inspired her first novel, Bond Girl. She lives in New York City with her husband (whom she met the old-fashioned way—in a bar).
Praise For…
---
"Bond Girl is a witty and very racy...Trust me, you won't be bored with this Wall Street story." — Washington Post on Bond Girl
"Bond Girl is a sparkling debut, smart and snappy but never weighed down by financial terminology. Who knew Wall Street could be this much fun? A-" — Entertainment Weekly on BOND GIRL
"Writing with an addictively acerbic sense of humor, Duffy gives readers a sassy new heroine and an unforgettable tour of financial trading." — Chicago Tribune on Bond Girl
"Told in first person in Alex's voice — and what an appealing voice it is, one that makes Alex likable from the first page — "Bond Girl" is a smartly written comic novel that's great fun to read." — Richmond Times-Dispatch on Bond Girl
"A compelling, fun read." — Kirkus on BOND GIRL
"Despite financial details that may make your head spin and a workplace that will make your stomach churn, Duffy's fresh take on the single-in-the-city tale does a terrific job of reviving chick lit (not every girl works in publishing or PR, after all)." — Library Journal (starred review)
"If you're looking for a great weekend retreat or a great book for the beach, look for this one. For any woman who's ever had a love-hate-detest relationship with a job Bond Girl is truly perfect." — Wisconsin Rapids Tribune on BOND GIRL
"I'm crazy about Bond Girl. Erin Duffy is a fresh, funny, and fabulous new voice in literature.…Great story. Delicious debut." — Adriana Trigiani, author of Lucia, Lucia and Brava, Valentine
"With its more realistic and modern ending, this engaging novel offers readers relaxing and light yet thoughtful summer escape." — Library Journal on ON THE ROCKS
Duffy's second novel is tenderly introspective. . . . Abby's attempts to navigate the everchanging rules of dating are infinitely relatable and will prove to be an ideal beach read for fans of Elin Hilderbrand and Sarah Pekkanen. — Booklist on ON THE ROCKS
"Alternately humorous and touching, this novel is a fast, fun read…[Abby] is someone you'd want to friend, freezer full of ice cream and all." — Romantic Times, four stars on ON THE ROCKS
"Duffy's first novel is a sharp, witty look at the intricacies of the trading floor and the people who populate it. The writing is clever and articulate, and Alex's story of personal growth makes her a sympathetic, likable heroine…an entertaining and timely read." — Booklist on BOND GIRL