The Impossible Lives of Greta Wells: A Novel (Paperback)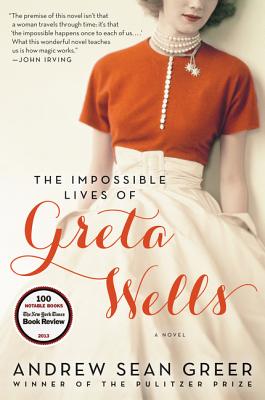 $16.99
Not Available In-Store - Usually Ships from Warehouse in 1-5 Days
Staff Reviews
---
Andrew Sean Greer is a fantastic author and his latest, a moving novel about a woman who gets to experience her life in three different time periods, is absolutely amazing! I was glued to the pages, and I couldn't stop thinking about what I would do if I was given the same opportunity. Greta goes back and forth between 1918, 1941, and 1985, and each of her selves is a little different. It's fascinating to see how she is impacted not only by the different time periods, but by the different experiences. This is a lush, gorgeous summer read — perfect for book clubs!
—
LAUREN'S STAFF PICKS
July 2013 Indie Next List
---
"This exquisitely rendered novel captures one character in three distinct and historically significant periods: the flu epidemic of 1918, the wartime world of 1945, and the full-blown AIDS terror of 1985. Greer manages to achieve the near impossible himself in making Greta believable in all three. She suffers and learns in each circumstance, though her hard-won accumulated knowledge is of little help in solving the essential riddle that is life. Stilll, hers is a grand and brave journey that will not soon be forgotten."
— Marion Abbott, Mrs. Dalloway's, Berkeley, CA
Description
---
From Pulitzer Prize-winning and New York Times bestselling author Andrew Sean Greer comes The Impossible Lives of Greta Wells, a rapturously romantic story of a woman who finds herself transported to the "other lives" she might have lived.
After the death of her beloved twin brother and the abandonment of her long-time lover, Greta Wells undergoes electroshock therapy. Over the course of the treatment, Greta finds herself repeatedly sent to 1918, 1941, and back to the present. Whisked from the gas-lit streets and horse-drawn carriages of the West Village to a martini-fueled lunch at the Oak Room, in these other worlds, Greta finds her brother alive and well—though fearfully masking his true personality. And her former lover is now her devoted husband…but will he be unfaithful to her in this life as well? Greta Wells is fascinated by her alter egos: in 1941, she is a devoted mother; in 1918, she is a bohemian adulteress.
In this spellbinding novel by Andrew Sean Greer, each reality has its own losses, its own rewards; each extracts a different price. Which life will she choose as she wrestles with the unpredictability of love and the consequences of even her most carefully considered choices?
About the Author
---
Andrew Sean Greer is the bestselling author of The Story of a Marriage and The Confessions of Max Tivoli, which was a Today book club selection and received a California Book Award. He lives in San Francisco.
Praise For…
---
"Elegiac in tone, this tale of time travel, loss and comprimise is as precisely engineered as a Swiss watch. [Greer] manages the complexities of this temporal round robin with precision and panache…a generous novel…"
— New York Times Book Review

"This novel is a guilty pleasure of sorts for anyone who has ever wondered, What if? We're taught not to dwell on paths not taken, but this book weaves a tale about the magical possibility of what could have been."
— Real Simple

"…The magical conceit here is well earned and imagined rather than gimmicky, and Greer writes with an acute sensivity for the wonderment taht underpins the human experience."
— The Daily Beast

"…elegant and wistful…"
— Time Out New York

"Greer is a deep thinker and a fine stylist…consider reading Greta Wells for sentences like these: 'It is almost impossible to capture true sadness; it is a deep-sea creature that can never be brought into view.'"
— USA Today

"…emotionally rich…Greer is an artful, elegant writer…The Impossible Lives of Greta Wells is a deeply romantic book."
— Miami Herald

"The premise of this novel isn't that a woman travels through time: it's that 'the impossible happens once to each of us'…What this wonderful novel teaches us is how magic works."
— John Irving

"Andrew Sean Greer is one of the most talented writers around, feeling and funny, with a genuinely fine prose style and a sensibility to match."
— Michael Chabon

"Greer's imaginative treatment of love and relationships shines again in his third novel. VERDICT Fans of Audrey Niffenegger's The Time Traveler's Wife will delight in following the thought process of time traveling while maintaining a hold on a singular identity."
— Library Journal (starred review)

"Andy Sean Greer writes with an intelligent joy that encompasses a truly kaleidoscopic vision, reminding me of the work of Peter Carey and David Mitchell. This novel is beautifully sewn together."
— Colum McCann

"No one tells the secrets of the human heart more bravely or eloquently than Andrew Sean Greer. He has been called our Proust, our Nabokov, but with this novel he transcends all comparison. This is a genius-stroke of a book. Read it and weep."
— Julie Orringer, bestselling author of The Invisible Bridge

"Andrew Sean Greer's The Impossible Lives of Greta Wells is a luminous inquiry into time itself, and Greta Wells, in her transit between three lives, is his most assured creation. What a lovely novel: stirring, inclusive, forgiving, and extraordinarily hopeful."
— Jayne Anne Phillips

"Philosophically intriguing as well as gorgeously imagined and executed, this novel will catch fire with the same audience that propelled The Time Traveler's Wife to the top of the bestseller list."
— Booklist