After the End (Paperback)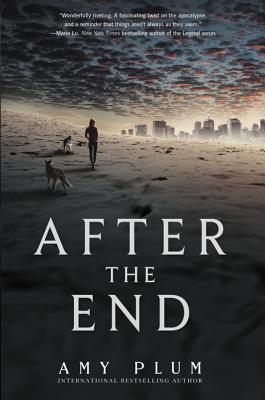 $9.99

Special Order - Subject to Availability
Staff Reviews
---
If you're looking for a one-stop adventure/spiritual journey, you've gotta read After the End. For her whole life, Juneau has believed that she lives in a post apocalyptic world caused by WWIII in 1984. When she suddenly finds herself stepping into the streets of Seattle with a fully functioning modern society, her whole way of thinking is turned around. Juneau is a character I immediately felt for and believed in. I admire her talent to adapt, she's smart and a quick learner, and her naivete is hilarious from a present-day point of view. I'm not even sure in what genre to classify this pseudo-dystopian novel, but it's remarkably unique and exciting, bringing in a breath of fresh air to the young adult scene.
—
LEAH'S STAFF PICKS
Description
---
Michael Grant's Gone series meets M. Night Shyamalan's The Village in this riveting story of one girl's journey to save the very people who have lied to her for her entire life. Amy Plum, international bestselling author of the Die for Me series, delivers a fast-paced adventure perfect for fans of Marie Lu, Veronica Rossi, and Robison Wells.
Juneau grew up fearing the outside world. The elders told her that beyond the borders of their land in the Alaskan wilderness, nuclear war had destroyed everything. But when Juneau returns from a hunting trip one day and discovers her people have been abducted, she sets off to find them. And leaving the boundaries for the very first time, she learns the horrifying truth: World War III never happened. Nothing was destroyed. Everything she'd ever been taught was a lie.
As Juneau comes to terms with an unfathomable deception, she is forced to survive in a completely foreign world, using only the skills and abilities she developed in the wild. But while she's struggling to rescue her friends and family, someone else is after her. Someone who knows the extraordinary truth about her secret past.
About the Author
---
Amy Plum is the international bestselling author of the Dreamfall series, the Die for Me series, and the After the End series. She spent her childhood in Birmingham, Alabama, her twenties in Chicago and Paris, and several more years in London, New York, and the Loire Valley. Now she lives in Paris and swears she'll never move again. You can visit Amy online at www.amyplumbooks.com.
Praise For…
---
"Wonderfully riveting. A fascinating twist on the apocalypse, and a reminder that things aren't always as they seem." — Marie Lu, New York Times bestselling author of the Legend series
"Exciting and tense! Prepare for the unexpected! You'll stay up all night with this one!" — Sophie Jordan, New York Times bestselling author of the Firelight series and Uninvited
"Amy Plum creates a chilling world where the stakes are high and no one can be trusted. After the End will leave you breathless!" — Kimberly Derting, author of the Body Finder series
★ "Misunderstandings and betrayals abound as Juneau and Miles set off on a road trip through the West, coming to appreciate each other in a slow-moving, believable romance." — Publishers Weekly (starred review)
"This fast-paced adventure novel pulses with magic, romance, and one humdinger of a cliff-hanger." — ALA Booklist
"The fast-paced plot, rife with mystery, successfully moves the story forward. The initial setting of Juneau's camp is fully realized and portrayed in vivid detail. She is a tough, loyal, and smart protagonist and thoroughly developed. Fans of post-apocalyptic fiction will enjoy this unusual not-quite-dystopian novel." — School Library Journal
"Attractive characters and the fresh, present-day setting should hook genre fans." — Kirkus Reviews
PRAISE FOR THE DIE FOR ME SERIES "I devoured this lush, mysterious romance, which delivers a refreshingly human heroine alongside a hero truly deserving of the title." — Aprilynne Pike, #1 New York Times bestselling author of the Wings series
★ "Action and drama abound. Plum has done an excellent job of setting up the rules for her creations and following them closely. Fans of this genre will have their appetites reignited by this new addition." — School Library Journal (starred review) on Die for Me
"Move over, Bella and Edward. Plum introduces a world and a story that are sure to intrigue teen readers and will easily attract fans of the Twilight series." — ALA Booklist on Die for Me
"The lush Parisian setting and gorgeous characters make this an immersing, franchise-ready story." — Publishers Weekly
"A fast-moving tale of star-crossed lovers." — Voice of Youth Advocates (VOYA)
"Plum handles the intrigue and builds tension, ending with a major cliffhanger that should compel readers to the final book in the trilogy." — Kirkus Reviews on Until I Die
"The historical elements and the magic evoked by the Parisian setting work to paint a full landscape that has a deep otherworldly connection while remaining entirely ordinary in the very best way. The story's twists and turns are well paced and will have readers captivated." — School Library Journal on Until I Die
A swashbuckling final episode with plot twists and unexpected revelations." — ALA Booklist on If I Should Die
"Plenty of well-paced tension. The author keeps the narrative moving along at a sprightly pace and handles the suspense well." — Kirkus Reviews on If I Should Die
"This last book does not disappoint. Amy Plum is to be congratulated for her creation of the Revenants. It is a fresh and original mythology. It will be interesting to see what Amy Plum will come up with next." — New York Journal of Books