Bird Box: A Novel (Hardcover)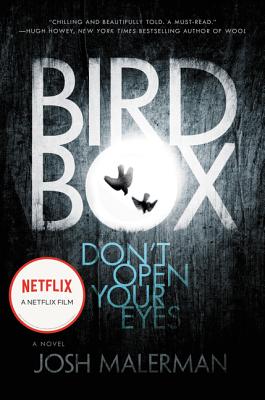 Staff Reviews
---
Fear of the unknown has rarely been so potent or so moving. As a longtime horror fan, I've become somewhat jaded to the genre, and it has gotten increasingly difficult for 'scary stories' to actually scare me, but the bleak atmosphere and ominous dread of Bird Box made me genuinely uneasy. Josh Malerman is relentless. He had me by the throat from page one, and he just kept tightening his grip until I was helpless in his grasp, compelled to keep reading despite feeling a constant anxiety about what I might find waiting for me on the next page. The unseen menace haunting this book has a very real presence, nightmarish and unsettling, eerie and disquieting; I couldn't close my eyes, but I was afraid to keep them open. With ever-mounting tension and a deeply sinister edge, Bird Box is a masterpiece of modern literary horror.
— JASON'S STAFF PICKS
Description
---
Now a Netflix film starring Sandra Bullock, Sarah Paulson, Rosa Salazar and John Malkovich!
Written with the narrative tension of The Road and the exquisite terror of classic Stephen King, Bird Box is a propulsive, edge-of-your-seat horror thriller, set in an apocalyptic near-future world—a masterpiece of suspense from the brilliantly imaginative Josh Malerman.
Something is out there . . .
Something terrifying that must not be seen. One glimpse and a person is driven to deadly violence. No one knows what it is or where it came from.
Five years after it began, a handful of scattered survivors remain, including Malorie and her two young children. Living in an abandoned house near the river, she has dreamed of fleeing to a place where they might be safe. Now, that the boy and girl are four, it is time to go. But the journey ahead will be terrifying: twenty miles downriver in a rowboat—blindfolded—with nothing to rely on but her wits and the children's trained ears. One wrong choice and they will die. And something is following them. But is it man, animal, or monster?
Engulfed in darkness, surrounded by sounds both familiar and frightening, Malorie embarks on a harrowing odyssey—a trip that takes her into an unseen world and back into the past, to the companions who once saved her. Under the guidance of the stalwart Tom, a motely group of strangers banded together against the unseen terror, creating order from the chaos. But when supplies ran low, they were forced to venture outside—and confront the ultimate question: in a world gone mad, who can really be trusted?
Interweaving past and present, Josh Malerman's breathtaking debut is a horrific and gripping snapshot of a world unraveled that will have you racing to the final page.
About the Author
---
Josh Malerman is the acclaimed author of Bird Box, as well as the lead singer and songwriter for the rock band The High Strung. He lives in Michigan.
Praise For…
---
"A book that demands to be read in a single sitting, and through the cracks between one's fingers. There has never been a horror story quite like this. Josh Malerman truly delivers."
— —Hugh Howey, New York Times bestselling author of Wool

"This completely compelling novel contains a thousand subtle touches but no mere flourishes-it is so well, so efficiently, so directly written I read it with real admiration. Josh Malerman does the job like a fast-talking, wised-up angel." -Peter Straub
— —Peter Straub

"[A] chilling debut… Malerman...keeps us tinglingly on edge with his cool, merciless storytelling [and] douses his tale in poetic gloom….An unsettling thriller, this earns comparisons to Hitchcock's The Birds, as well as the finer efforts of Stephen King and cult sci-fi fantasist Jonathan Carroll."
— —Kirkus Reviews (starred review)

"The author uses understatement and allusion to create a lean, spellbinding thriller that Stephen King fans will relish."
— —Publishers Weekly (starred review)