Local: The New Face of Food and Farming in America (Hardcover)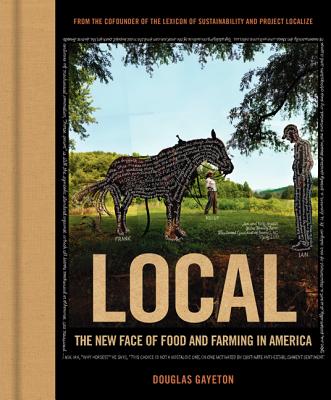 $35.00
Special Order - Subject to Availability
Description
---
Combining stunning visuals with insights and a lexicon of more than 200 agricultural terms explained by today's thought leaders, Local showcases and explores one of the most popular environmental trends: rebuilding local food movements.
When Douglas Gayeton took his young daughter to see the salmon run—a favorite pastime growing up in Northern California—he was devastated to find that a combination of urban sprawl, land mismanagement, and pollution had decimated the fish population.
The discovery set Gayeton on a journey in search of sustainable solutions. He traveled the country, photographing and learning the new language of sustainability from today's foremost practitioners in food and farming, including Alice Waters, Wes Jackson, Carl Safina, Temple Grandin, Paul Stamets, Patrick Holden, Barton Seaver, Vandana Shiva, Dr. Elaine Ingham, and Joel Salatin, as well as everyday farmers, fishermen, and dairy producers.
Local: The New Face of Food and Farming blends their insights with stunning collage-like information artworks and Gayeton's Lexicon of Sustainability, which defines and de-mystifies hundreds of terms like "food miles," "locavore," "organic," "grassfed" and "antibiotic free." In doing so, Gayeton helps people understand what they mean for their lives. He also includes "eco tips" and other information on how the sustainable movement affects us all every day.
Local: The New Face of Food and Farming in America educates, engages, and inspires people to pay closer attention to how they eat, what they buy, and where their responsibility begins for creating a healthier, safer food system in America.
About the Author
---
Douglas Gayeton is an award-winning American multimedia artist, filmmaker, writer, and photographer. He and his wife are the cofounders of the Lexicon of Sustainability and Project Localize, which show people how to live more sustainably. He is the author of Slow: Life in a Tuscan Town and lives on a farm with his wife and daughter in Petaluma, California.
Praise For…
---
"Douglas Gayeton's work has captured that magical moment when powerful ideas are transformed into a national movement led by visionary people with highly personal solutions for living more locally and sustainably. Bravo!"
— Hunter Lovins, president, Natural Capitalism Solutions

"LOCAL is a timely and superbly graphic exposition of the horticulturists who, by their unstinting and vastly underpaid labor, comprise a vanguard of a biological movement that is reclaiming our land, place, and culture."
— Paul Hawken, author, The Ecology of Commerce: A Declaration of Sustainability

"Historian Lawrence Goodwyn once said, 'We cannot create what we cannot name,' and he's right. In his stunningly beautiful book, Douglas Gayeton gives name to the world we want and in so doing helps us create it."
— Anne Lappe

"This book shows people how they can become directly involved in fixing the broken food system in their role as consumers, by making purchases consistent with their values and with an eye on living more sustainably."
— Patrick Holden, founder, Sustainable Food Trust

"Climate change happens just slowly enough that it can slip by our defenses, unless we are able to harness-as this project so powerfully does-the depth of human creativity to slam the message home."
— Bill McKibben, founder, 350.org