No Parking at the End Times (Hardcover)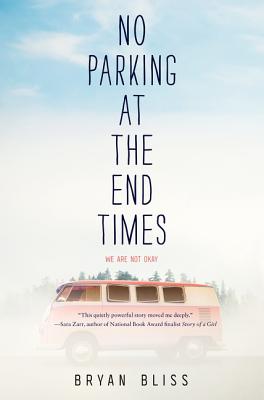 $17.99

Special Order - Subject to Availability
Description
---
Abigail's parents believed the world was going to end. And—of course—it didn't. But they've lost everything anyway. And she must decide: does she still believe in them? Or is it time to believe in herself? Fans of Sara Zarr, David Levithan, and Rainbow Rowell will connect with this moving debut.
Abigail's parents never should have made that first donation to that end-of-times preacher. Or the next, or the next. They shouldn't have sold their house. Or packed Abigail and her twin brother, Aaron, into their old van to drive across the country to San Francisco, to be there for the "end of the world." Because now they're living in their van. And Aaron is full of anger, disappearing to who-knows-where every night. Their family is falling apart. All Abigail wants is to hold them together, to get them back to the place where things were right.
But maybe it's too big a task for one teenage girl. Bryan Bliss's thoughtful debut novel is about losing everything—and about what you will do for the people you love.
About the Author
---
Bryan Bliss is the author of the National Book Award longlist title We'll Fly Away, as well as Thoughts & Prayers, Meet Me Here, and No Parking at the End Times. He holds master's degrees in theology and fiction and has worked as a curriculum designer and developer and as a youth pastor. His nonfiction has been published in Image Journal, along with various other newspapers, magazines, and blogs. He lives with his family in St. Paul, Minnesota.
Praise For…
---
"This quietly powerful story of a young woman's quest for deliverance in the face of parental failure, religious disillusionment, and self-doubt moved me deeply. I can't wait to see what Bryan Bliss does next." — Sara Zarr, author of National Book Award finalist Story of a Girl
"Bliss's debut explores family, sacrifice, and the power of everyday faith with a deft and sensitive hand." — Horn Book Magazine
"Abigail's narration is smooth and authentic as she negotiates the complicated blend of anger and love she feels toward her parents." — Bulletin of the Center for Children's Books
"Bliss has worked with teenagers, and it shows—his characters are not stereotypical "teens" but human beings who must face and overcome unique problems. A fine debut." — Minneapolis Star Tribune