The Poet's Dog (Hardcover)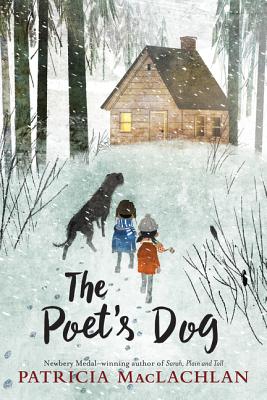 Staff Reviews
---
If you were a child lost in a snowstorm, with your brother or sister by your side - thank heavens, at least you're not all alone! - you could not dream of a better friend to find you, than a large and friendly Irish Wolfhound who can lead you to shelter. But then again, perhaps your dreams are as vivid as our storyteller's dreams are. Does your dream dog, friendly and strong, also speak to you, in the kindest ways? In spite of the cold, this story will make you feel warm all over, for a very long time.
—
Claudia
Description
---
From Newbery Medal winner Patricia MacLachlan comes a poignant story about two children, a poet, and a dog and how they help one another survive loss and recapture love.
3 starred reviews. "Just what I needed," raves Brightly. "It's a heart-warming story of loss and love that filled me with hope for a better future and renewed my belief in good."
Teddy is a gifted dog. Raised in a cabin by a poet named Sylvan, he grew up listening to sonnets read aloud and the comforting clicking of a keyboard. Although Teddy understands words, Sylvan always told him there are only two kinds of people in the world who can hear Teddy speak: poets and children.
Then one day Teddy learns that Sylvan was right. When Teddy finds Nickel and Flora trapped in a snowstorm, he tells them that he will bring them home—and they understand him. The children are afraid of the howling wind, but not of Teddy's words. They follow him to a cabin in the woods, where the dog used to live with Sylvan . . . only now his owner is gone.
As they hole up in the cabin for shelter, Teddy is flooded with memories of Sylvan. What will Teddy do when his new friends go home? Can they help one another find what they have lost?
About the Author
---
Patricia MacLachlan is the celebrated author of many timeless books for young readers, including Sarah, Plain and Tall, winner of the Newbery Medal. Her novels for young readers include Arthur, For the Very First Time; The Facts and Fictions of Minna Pratt; Skylark; Caleb's Story; More Perfect than the Moon; Grandfather's Dance; Word After Word After Word; Kindred Souls; and The Truth of Me; she is also the author of countless beloved picture books, a number of which she cowrote with her daughter, Emily.
Praise For…
---
★ "Magical. A quiet, elegant, poignant story suffused with humor, heart, and goodness."
— Kirkus Reviews (starred review)

★ "A spare, moving tale. Using simple words that even youngest readers will understand and enjoy, MacLachlan tackles subjects such as death and mourning with understated grace."
— Publishers Weekly (starred review)

★ "Readers will find their own jewel in this gem of a book."
— Booklist (starred review)

"Though this contemplative fantasy explores grief, it is also about overcoming loss and is resolved in a way that will comfort sensitive readers. A strong purchase for larger fiction collections."
— School Library Journal

"Dog-lovers and budding poets with a taste for quiet whimsy, or fans of MacLachlan's measured and lyrical writing, may want to check this out."
— Bulletin of the Center for Children's Books

"A tender story of love and grief, The Poet's Dog perfectly illustrates how special friends can heal a broken heart."
— Jo Knowles, author of See You At Harry's

"This enchanting tale of friendship—of the canine and poetic kind—will warm your heart like a firelit cabin on a snowy night. I loved it!"
— Laura Resau, author of The Lightning Queen and Star in the Forest

"A master storyteller in gorgeous form. The Poet's Dog is a joy from page one."
— Emily Jenkins, author of Toys Go Out and coauthor of Upside-Down Magic Emily Jenkins, author of Toys Go Out and coauthor of Upside-Down Magic

"An evocative gem, laced with the power to nurture every reader's inner poet."
— Leslie Connor, author of Waiting for Normal and All Rise for the Honorable Perry T. Cook

"Patricia MacLachlan's spare, direct words allows room for the reader to crawl inside the spaces between. The Poet's Dog is so satisfying and poignant."
— Lynda Mullaly Hunt, New York Times Bestselling author of Fish in a Tree

Praise for THE TRUTH OF ME: "Brief but emotionally intense...MacLachlan demonstrates her mastery of elegantly unfolding a tale and gently plucking at readers' heartstrings without taking a maudlin tone."
— Publishers Weekly (starred review)

Praise for KINDRED SOULS: "MacLachlan handles a familiar theme with grace, providing a lens into an uncanny intergenerational bond, as well as the kindness and generosity of love."
— Publishers Weekly (starred review)

Praise for WORD AFTER WORD AFTER WORD: "Showing great respect for her readers and her craft, Newbery Award winner Patricia MacLachlan makes every word count in Lucy's smooth-flowing, economic narrative."
— Booklist (starred review)