The Clockwork Crown (Clockwork Dagger Novels #2) (Paperback)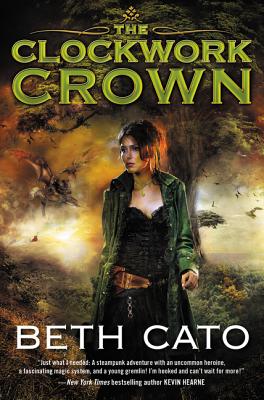 $14.99

Not Available In-Store - Usually Ships from Warehouse in 1-5 Days
Other Books in Series
This is book number 2 in the Clockwork Dagger Novels series.
Description
---
Rich in atmosphere, imagination, and fun, the action-packed, magic-filled sequel to The Clockwork Dagger is an enchanting steampunk fantasy, evocative of the works of Trudi Canavan and Gail Carriger.
Narrowly surviving assassination and capture, Octavia Leander, a powerful magical healer, is on the run with handsome Alonzo Garrett, the Clockwork Dagger who forfeited his career with the Queen's secret society of spies and killers—and possibly his life—to save her. Now, they are on a dangerous quest to find safety and answers: Why is Octavia so powerful? Why does she seem to be undergoing a transformation unlike any witnessed for hundreds of years?
The truth may rest with the source of her mysterious healing power—the Lady's Tree. But the tree lies somewhere in a rough, inhospitable territory known as the Waste. Eons ago, this land was made barren and uninhabitable by an evil spell, until a few hardy souls dared to return over the last century. For years, the Waste has waged a bloody battle against the royal court to win its independence—and they need Octavia's powers to succeed.
Joined by unlikely allies, including a menagerie of gremlin companions, she must evade killers and Clockwork Daggers on a dangerous journey through a world on the brink of deadly civil war.
About the Author
---
Nebula Award–nominated author Beth Cato hails from Hanford, California, but currently writes and bakes cookies in a lair west of Phoenix, Arizona. She's the author of the Clockwork Dagger duology and the Blood of Earth trilogy, plus scores of other short stories and poems across a multitude of publications. She shares her household with a hockey-loving husband, a numbers-obsessed son, and three feline overlords.
Praise For…
---
"This sequel to Cato's amazing steampunk adventure The Clockwork Dagger has all the imagination, treachery and nonstop thrills of the first....Cato and steampunk fantasy are truly an excellent match!" — RT Book Reviews (4.5 stars)
"Cato continues to defy expectations, moving the saga toward an unexpected, heartfelt conclusion, and the revelations about Octavia's abilities are amply rewarding." — Publishers Weekly
"A satisfying follow-up that…offers an entertaining, swiftly moving adventure in the company of Cato's appealing characters." — Kirkus Reviews
"Crown draws just enough mysticism to keep its airship-and-industrialization level of technology superbly balanced. ...[I]t's impeccably paced and compact, making for a potent conclusion to Cato's rousing steampunk tale...self-contained and wholly satisfying." — NPR Books
"[Full] of nonstop adventure ... Cato doesn't stint on the worldbuilding but always keeps the focus on her richly developed characters. Besides the immensely appealing central couple, there is a full cast of allies and villains who keep things moving." — Library Journal
"The sequel to Cato's novel The Clockwork Dagger, this new installment is a fun fantasy adventure as her characters try to uncover what's behind their powers." — Buzzfeed
"A very satisfying conclusion to an excellent duology." — Barnes & Noble SF&F Blog
"A reminder of how to be selfless and loving in a world that wants women clawing ruthlessly for the top." — She Knows
"The Clockwork novels seamlessly combine magic and technology." — SFRevu
"Beth Cato's The Clockwork Crown is a satisfying follow-up to her Clockwork Dagger, each twist of the action pulling me deeper into the story. These are books I'll be recommending to friends, both teenagers and adults." — Laura Anne Gilman, author of SILVER ON THE ROAD
"Cato has a light, playful touch…The Clockwork Crown is just the ticket for readers who like their steampunk leavened with fantasy, don't need physical gymnastics in their romance, want to think about the ethics of healing, and are into sentient botany." — Kings River Life
"Fantasy is so immersed in grimdark now, it's nice to see some beauty now and then. 4 stars." — Relentless Reading
"I didn't realize until now the level of excitement trees could bring into a story." — Talk Supe