Can I Say: Living Large, Cheating Death, and Drums, Drums, Drums (Hardcover)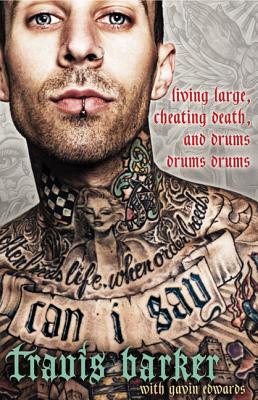 $28.99

Special Order - Subject to Availability
Staff Reviews
---
Travis Barker was sure to begin his memoir with the truth: this book is a detailed portrayal of his life, which includes the pieces he's not proud of too. Barker recounts his unique story, from his childhood and modest start in the quirky, wonderful Aquabats, to his rise to stardom with Blink and the plane crash that nearly cost him his life. Both candid and deeply honest, Barker's memoir shows how his passion kept him truly intrepid.
—
Becky
Travis Barker is someone I grew up with. Blink-182 was one of the bands that fueled my musical obsessions in high school and beyond. When I heard that the drummer from one of said musical obsessions had written a memoir, I was intrigued. Can I Say did not disappoint. Barker chronicles everything in his life from his humble childhood in California to his two marriages to that infamous plane crash. A fascinating look at a musician's life, Can I Say will keep you hooked until the end.
—
Heather H.
Description
---
Travis Barker's soul-baring memoir chronicles the highlights and lowlights of the renowned drummer's art and his life, including the harrowing plane crash that nearly killed him and his traumatic road to recovery—a fascinating never-before-told-in-full story of personal reinvention grounded in musical salvation and fatherhood.
After breaking out as the acclaimed drummer of the multiplatinum punk band Blink-182, everything changed for Travis Barker. But the dark side of rock stardom took its toll: his marriage, chronicled for an MTV reality show, fell apart. Constant touring concealed a serious drug addiction. A reckoning did not truly come until he was forced to face mortality: His life nearly ended in a horrifying plane crash, and then his close friend, collaborator, and fellow crash survivor DJ AM died of an overdose.
In this blunt, driving memoir, Barker ruminates on rock stardom, fatherhood, death, loss, and redemption, sharing stories shaped by decades' worth of hard-earned insights. His pulsating memoir is as energetic as his acclaimed beats. It brings to a close the first chapters of a well-lived life, inspiring readers to follow the rhythms of their own hearts and find meaning in their lives.
About the Author
---
Travis Barker is a musician, producer, and entrepreneur who rose to fame as the drummer for the influential punk-rock band Blink-182. Barker has also performed as a frequent collaborator with artists including LL Cool J, Eminem, Lil Wayne, Slash, Mary J. Blige, Tom Morello, and Cypress Hill, establishing himself as one of the most prolific rock drummers in the world. Barker founded clothing company Famous Stars and Straps in 1999 and LaSalle Records in 2004. He lives in California and is currently working on his second solo album.
Gavin Edwards is a contributing editor for Rolling Stone and has written for Details, Spin, and the New York Times Magazine. He is the author of eight books, including the New York Times bestseller VJ, which he cowrote with the original MTV VJs. He lives in Los Angeles with his wife and their two sons.
Praise For…
---
"(A) riveting, brutally honest memoir."
— Billboard

"Written with ROLLING STONE contributor Gavin Edwards, Can I Say is a fascinating look into the life of a talented, hard-partying musician who has beaten the odds several times."
— Rolling Stone