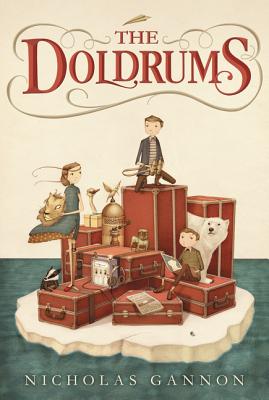 $17.99
Not Available In-Store - Usually Ships from Warehouse in 1-5 Days
Staff Reviews
---
Seeking wild adventure outside their small ordinary town, Archer, Oliver, and Adelaide tested the bounds of the imagination, and brought me along in their journey. The oddness and subtle humor is reminiscent of The Series of Unfortunate Events minus the gloomy atmosphere. And contrary to it's 'doldrum' title, it's rather uplifting. The full color illustrations scattered throughout are resplendent, and really help visualizing all of the unpredictable events that take place. I can't wait for the next adventure with this group of friends.
—
Leah
As played out as the trope of "hero on an adventure learning life lessons in the process" is, I was never bored with The Doldrums. It is a whimsical coming-of-age story, told by dreamers who are trying their darnedest to be achievers. If Lemony Snicket and Roald Dahl came together, this may be the book they would produce. Go ahead and sprinkle in some Camus, too, for Oliver Glub, who is now my favorite sidekick. He is an existential punk who grounds this otherwise dreamy tale of longing for adventure and discovering friendship. Additionally, this is an absolutely gorgeous book. I want to live in the world Gannon has created; for now, I'll have to be content seeing it through the eyes of our heroes.
 
—
Amanda
Description
---
"A dreamy charmer of a book, full of clever wordplay that practically demands it be read out loud."—New York Times
Have you ever wanted to hold a little piece of the impossible? The Doldrums is an extraordinary debut about friendship, imagination, and the yearning for adventure from author-artist Nicholas Gannon. With the hardcover edition lavishly illustrated in full color, The Doldrums is a modern classic in the making, for readers of inventive and timeless authors such as Brian Selznick and Lemony Snicket.
Archer B. Helmsley wants an adventure. No, he needs an adventure. His grandparents were famous explorers . . . until they got stuck on an iceberg. Now Archer's mother barely lets him out of the house. As if that would stop a true Helmsley. Archer enlists Adelaide—the girl who, according to rumor, lost her leg to a crocodile—and Oliver—the boy next door—to help him rescue his grandparents. The Doldrums whisks us off on an adventure full of sly humor, incredible detail, and enormous heart.
With approximately twenty pieces of breathtaking full-color artwork, as well as black-and-white spot illustrations, and gorgeous, literary writing, Nicholas Gannon proves himself to be a distinctive new voice with his middle grade debut. Be in it for the limitless imagination. For the characters who capture your heart. For the rich world you'll want to settle into. But most of all, be in it for the friendship. That, after all, is the true adventure.
About the Author
---
Nicholas Gannon studied art and design and held a number of odd jobs before becoming a full-time author and illustrator. He has lived in Tennessee, Minnesota, and upstate New York. He now resides in Brooklyn, and he can sometimes be found eavesdropping on curious conversations at the Explorers Club. www.nicholasjgannon.com
Praise For…
---
"A dreamy charmer of a book, full of clever wordplay that practically demands it be read out loud."
— New York Times Book Review

The Doldrums is delightful! What a wonderful ride of a book!
— Jennifer L. Holm, NY TIMES-bestselling author of The Fourteenth Goldfish

"Amusing, heartwarming, and zany. ... The debut author also provides delicate, full-color illustrations throughout. Readers will eventually sigh in relief with Archer and his friends."
— Kirkus Reviews (starred review)

"Newcomer Gannon reveals himself as a skilled storyteller, both in his writing and artwork… It's a tender tale of friendship, untapped courage, and accidental adventure, filled with the spirit of exploration."
— Publishers Weekly (starred review)

"[Gannon's] warm-toned, fine-lined illustrations, full of delicately quirky details, help carry the offbeat atmosphere and whimsical story. Hand to fans of Lemony Snicket's Series of Unfortunate Events."
— ALA Booklist

"The art throughout is stunning, moves the story forward, and creates a beautiful package…This whimsical coming-of-age story has a touch of mystery that will endear it to fans of Roald Dahl."
— School Library Journal

"[A] warm and witty debut…What begins as an adventure…turns out to be, at its heart, a tale of true friendship. Each [friend] breaks out of his or her own prison in unusual ways so that together the trio accomplishes far more than they could have on their own."
— Shelf Awareness

"Archer, Adélaïde, and Oliver make the best trio of friends in a middle grade novel since Harry, Hermione, and Ron in the Harry Potter series."
— Clara Martin, Lemuria Books, Jackson, MS

"You'll laugh, you'll cry, you'll root for them, and when it's over, you'll want to turn the page back to the beginning and read it all over again. This is one of those books that everyone should read."
— Candice Huber, Tubby & Coo's Mid City Book Shop, New Orleans, LA