Disclaimer: A Novel (Hardcover)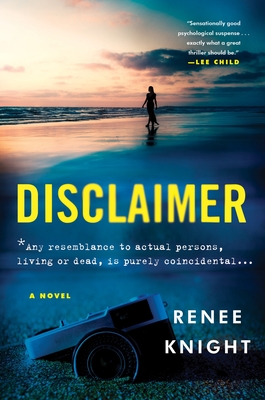 $25.99

Special Order - Subject to Availability
Staff Reviews
---
Catherine is just an average woman with all the trappings of a nice life: loving family, beautiful home, and a thriving career. Until one day she idly picks up a book she finds lying around the house and finds herself unable to put it down. At first she's transfixed by the story, but then she realizes with mounting horror that the book is about her. It's based on something that happened to her years ago, something only one person knew about--and he's dead. Her life implodes and readers have a front row seat. Disclaimer rotates between Catherine's point of view, her struggling son's, her bewildered husband's, and the righteously angry author with the poison pen. Knight writes movingly about the consequences of our choices and the way they can spread in our life like ripples in a pond. I couldn't put it down and I was truly surprised by the ending--this was an impressive debut and Renee Knight is an author to watch!
—
Lauren P
Description
---
A brilliantly conceived, deeply unsettling psychological thriller— already an international sensation—about a woman haunted by secrets, the consuming desire for revenge, and the terrible price we pay when we try to hide the truth.
Finding a mysterious novel at her bedside plunges documentary filmmaker Catherine Ravenscroft into a living nightmare. Though ostensibly fiction, The Perfect Stranger recreates in vivid, unmistakable detail the terrible day she became hostage to a dark secret, a secret that only one other person knew—and that person is dead.
Now that the past is catching up with her, Catherine's world is falling apart. Her only hope is to confront what really happened on that awful day . . . even if the shocking truth might destroy her.
About the Author
---
Renée Knight worked for the BBC directing arts documentaries before turning to writing. She has had TV and film scripts commissioned by the BBC, Channel Four, and Capital Films. In April 2013, she graduated from the Faber Academy "Writing a Novel" course, whose alumni include S. J. Watson. She lives in London with her husband and two children.
Praise For…
---
"Let me now acknowledge having done what thriller writers love doing: burying the lead. It's Disclaimer that turns out to be the Gone Girl of the season."
— Janet Maslin, New York Times

"Disclaimer is something special. . . an outstandingly clever and twisty tale that's been perfectly engineered to make heads spin. This novel's opening promise of menace is not overstated. Ms. Knight lives up to the initial deal she made with readers and delivers fully on the threat she used to hook them. That's a rare payoff in a genre full of letdowns. Its value can't be stressed enough."
— Janet Maslin, New York Times

"Disclaimer is something special. . . an outstandingly clever and twisty tale that's been perfectly engineered to make heads spin."
— Janet Maslin, New York Times

"Sensationally good psychological suspense…exactly what a great thriller should be."
— Lee Child

"Renée Knight's debut book is being compared with Gone Girl. . . . Every book of fiction comes with the statement that it is just that: "Any resemblance to actual events or persons living or dead is entirely coincidental.". . . . Disclaimer. . .turns that good-faith promise into a chilling premise."
— Wall Street Journal

"Renée Knight's debut book is being compared with Gone Girl. . . . A chilling premise."
— Wall Street Journal

"With pitch-perfect pacing and alternating narrators that leap off the page, Disclaimer is both a page-turning mystery and an artful exploration of the explosive intersection between marriage and motherhood, revenge and regret. A wonderfully compelling book."
— Kimberly McCreight, New York Times bestselling author of Reconstructing Amelia

"The marvel of…Disclaimer is that it just about lives up to its unusually gripping premise…[and] forms a trinity alongside Gone Girl and The Girl on the Train as the best of domestic noir."
— New York Daily News

"Disclaimer stealthily steals your attention and by the end holds you prisoner—a searing story that resonates long after the final page. The best thriller I've read this year."
— Rosamund Lupton, New York Times bestselling author of Sister and Afterwards

"Knight's pace…nuilds momentum and ends with a series of breakneck plot twists and surprises.… A seriously unnerving roller coaster…. It's also a surprisingly sophisticated examination of marriage, motherhood and memory, as well as—naturally—guilt, grief and revenge."
— Richmond Times-Dispatch

"A mysterious book within a book, which contains potentially damning information about the protagonist, jump starts this remarkable debut by British scriptwriter Knight....This unsettling psychological thriller about guilt and grief briskly moves to a shocking finale enhanced by its strong characters."
— Publishers Weekly (starred review)

"The first requirement of a fabulous summer read is that it should be too enthralling to put down. Disclaimer meets that requirement mightily.… A gripping, well-written story for those who aren't afraid of the darker side of summer reading."
— Charleston Gazette

"Knight's elegant plot and compelling…characters keep the heart of the novel beating.… Atmospheric and twisting…a page-turner. An addictive psychological thriller."
— Kirkus Reviews

"This debut British psychological thriller engages the reader from page one; mystery aficionados will dash to finish it in one sitting. Deliciously captivating, brilliantly twisty, and enticingly addictive, it hits the trifecta for a strong thriller!"
— Library Journal (starred review)

"Knight plays with our allegiances in this juicy domestic noir."
— BookPage.com

"This is a good psychological thriller with the ever-popular unreliable narrator, in this case two of them, along with lots of family drama. Sure to appeal to fans of Before I Go to Sleep, by S. J. Watson."
— Booklist

"A terrific novel with a brilliantly creepy central premise. One of the best debut thrillers I have ever read."
— Paula Daly, author of What Kind of Mother Are You?

"The control of the reader's sympathies, the construction and pacing and the interweaving of [the] narratives, past and present, are remarkably accomplished in an addictive novel that has parallels with Gone Girl, but shows no sign of brazenly jumping onto that book's bandwagon."
— London Sunday Times

"New authors need to stand out and Renée Knight has a doozy of an opening for Disclaimer…. Why is the driving question here, not how or who, and it's really well done."
— Globe and Mail (Toronto)

"Disclaimer by Renee Knight is an obsessive read. It is not a book to be read a chapter at a time, but one that demands to be devoured at once."
— NY Journal of Books

"Unsettling…. The ending delivers more than one emotional wallop. Readers' feelings about each character will likely be upended as they're reminded that sometimes people commit atrocious acts out of love, and those who behave abhorrently can also be honorable."
— Shelf Awareness (starred)

"A brilliantly conceived, deeply disturbing psychological thriller about a woman haunted by secrets-and the price she will pay for concealing the truth."
— Quivering Pen

"Knight stretches the limits of. . . human emotions and struggles. . . [leading] the reader to a satisfactory and shocking conclusion."
— The Life Sentence

"Knight has twisted a story of decaying love, and built a psychological suspense tale that raises the hair on the back of your neck.… If psychological suspense is what interests you, look no further."
— BlogCritics.com

"Unsettling, yet impossible to set down…. A captivating read you'll find lingers with you long after the final page has been turned."
— BookLoons.com