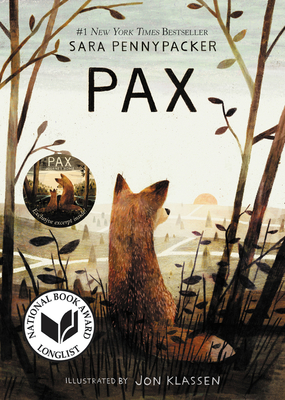 Staff Reviews
---
Once you let this sweet little fox into your life, you will never want to let him go. He is one of the most endearing characters I have come across in a long time, and the author truly brings him to life, treating him like a genuine friend. Sara Pennypacker is a wonderful storyteller, a voice of wisdom, empathy, and hope. With Pax, she broke my heart and then mended it, stitching the torn pieces back together with tender care and soothing grace. Though the journey was harrowing, when I reached the end of it, I felt a renewed sense of peace with the world around me. Sincere, poignant, and stunningly beautiful, this is the kind of book that made me fall in love with reading in the first place. I can't wait to share it with you.
—
Jason
If you've ever lost a pet, or been angry at a parent, or wondered how war feels to the young and vulnerable, read this book. The author puts the reader straight into the mind of a fox and the 12-year-old boy who rescued him as a young abandoned kit, using the loveliest language to describe their struggles with these thorny issues. You might cry, though. Be prepared!
—
Georgeann
Description
---
New York Times Bestseller * National Book Award Longlist 
Finally in paperback! This handsome edition features French flaps.
From bestselling and award-winning author Sara Pennypacker comes a beautifully wrought, utterly compelling novel about the powerful relationship between a boy and his fox. Pax is destined to become a classic, beloved for generations to come. 
Pax and Peter have been inseparable ever since Peter rescued him as a kit. But one day, the unimaginable happens: Peter's dad enlists in the military and makes him return the fox to the wild.
At his grandfather's house, three hundred miles away from home, Peter knows he isn't where he should be—with Pax. He strikes out on his own despite the encroaching war, spurred by love, loyalty, and grief, to be reunited with his fox.
Meanwhile Pax, steadfastly waiting for his boy, embarks on adventures and discoveries of his own. . . .
Pax is a wonderful choice for independent reading, sharing in the classroom, homeschooling, and book groups.
Plus, don't miss Pax, Journey Home, the sequel to the award-winning and modern classic Pax.
About the Author
---
Sara Pennypacker is the author of the New York Times bestselling Pax and Pax, Journey Home; the award-winning Clementine series and its spinoff series, Waylon; and the acclaimed novels Summer of the Gypsy Moths and Here in the Real World. She divides her time between Cape Cod, MA, and Florida. You can visit her online at sarapennypacker.com.
Jon Klassen grew up in Niagara Falls, Canada, and now lives in Los Angeles, California. He is the New York Times bestselling author and illustrator of several books, including I Want My Hat Back and This Is Not My Hat, for which he won the Caldecott Medal. Two of his picture books have been named Caldecott Honor books: Sam and Dave Dig a Hole and Extra Yarn (winner of the Boston Globe–Horn Book Award), both by Mac Barnett. You can visit him online at www.burstofbeaden.com.
Praise For…
---
"Pax the book is like Pax the fox: half wild and wholly beautiful." — New York Times Book Review
"Moving and poetic." — Kirkus Reviews (starred review)
"Pennypacker's expert, evenhanded storytelling reveals stunning depth in a relatively small package." — Booklist (starred review)
"In an exceptionally powerful, if grim story, Pennypacker does a remarkable job of conveying the gritty perspective of a sheltered animal that must instantly learn to live in the wild." — Publishers Weekly (starred review)
"A startling work of fiction that should be read-and discussed-by children and adults alike." — School Library Journal (starred review)
"An emotional, thought-provoking story of conflict, loyalty, and love." — The Horn Book
"Sometimes an author steps aside from a popular series to break new ground, as evidenced in this arresting novel, at once a wilderness adventure about survival and a philosophical foray into big questions." — San Francisco Chronicle
"Pennypacker's elegant language and insight into human nature spin a fable extolling empathy above all. By the novel's poignant ending, Pennypacker has gently made the case that all of us should aspire to that view—children and adults alike." — Time magazine
"Searingly honest and heartbreakingly lovely, Pax is, quite simply, a masterpiece." — Katherine Applegate, Newbery Award-winning author of The One and Only Ivan
"A sweeping and enchanting wartime story of trust, loyalty, betrayal, and the love of a boy for the fox he's raised since he was a kit. A master storyteller, Pennypacker leads the reader along a path of shifting hopes to the story's heart-wrenching conclusion." — Ann M. Martin, Newbery Honoree, author of Rain Reign
"Pax is set in an unspecified time and place so that the details of the war are unimportant. What is prime is the graceful but haunting story of boy and fox—their relationship set against man-made chaos." — Columbus Dispatch
"Both boy and fox experience the kindness of others even with the backdrop of imminent war." Recommended 2016 Holiday Gift for Tween Readers — Brightly
"A book that is as much about dealing with loss as it is about how people change and affect the world around them."An Entertainment Weekly Best Middle Grade Book of 2016 — Entertainment Weekly