Speak: A Novel (Paperback)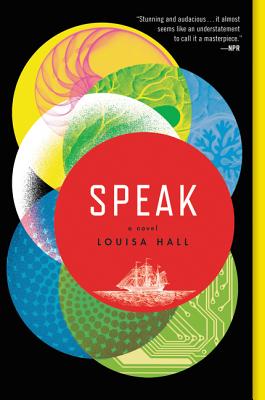 Staff Reviews
---
I couldn't tell where this story was going. These stories, I should have said; five of them interlaced, spanning several centuries but nevertheless touching each other again and again. Five stories with eight voices: six human and two artificial intelligences—digital entities less than human, of course, but with superhuman memories and supplied with algorithms to provide their owners with a level of companionship rarely found except between the best of friends. I couldn't tell where it was going, but I couldn't stop reading.
—
Bob
Description
---
A thoughtful, poignant novel that explores the creation of Artificial Intelligence—illuminating the very human need for communication, connection, and understanding.
In a narrative that spans geography and time, from the Atlantic Ocean in the seventeenth century, to a correctional institute in Texas in the near future, and told from the perspectives of five very different characters, Speak considers what it means to be human, and what it means to be less than fully alive.
A young Puritan woman travels to the New World with her unwanted new husband. Alan Turing, the renowned mathematician and code breaker, writes letters to his best friend's mother. A Jewish refugee and professor of computer science struggles to reconnect with his increasingly detached wife. An isolated and traumatized young girl exchanges messages with an intelligent software program. A former Silicon Valley Wunderkind is imprisoned for creating illegal lifelike dolls.
Each of these characters is attempting to communicate across gaps—to estranged spouses, lost friends, future readers, or a computer program that may or may not understand them. In dazzling and electrifying prose, Louisa Hall explores how the chasm between computer and human—shrinking rapidly with today's technological advances—echoes the gaps that exist between ordinary people. Though each speaks from a distinct place and moment in time, all five characters share the need to express themselves while simultaneously wondering if they will ever be heard, or understood.
Praise For…
---
"SPEAK is that rarest of finds: a novel that doesn't remind me of any other book I've ever read. A complex, nuanced, and beautifully written meditation on language, immortality, the nature of memory, the ethical problems of artificial intelligence, and what it means to be human."

"SPEAK reads like a hybrid of David Mitchell and Margaret Atwood; a literary page turner that spans four centuries and examines the idea of who and what we define as human. Louisa Hall has written a brilliant novel."

Hall subtly weaves a thread through a temporally diverse cast of narrators. Like all good robot novels, Speak raises questions about what it means to be human as well as the meaning of giving voice to memory.

"strange, beautiful and unputdownable"

"Hall capably weaves the stories to form a beautiful rumination on the nature of memory and the frailty of human relationships."

"While the novel's ambitions are high-concept, Hall's narrative is notable for its persuasive heart… Speak gazes boldly forward and lovingly back in order to report on the nature of what it means to be human now."

"Hall delivers a dystopian A.I. novel with real heart and soul. Told through 17th century diary entries, letters by Alan Turing, court transcripts in 2040 and instant messages between a bot and a young, brokenhearted girl, this book is strange, beautiful and unputdownable."

"[A] stunning new novel... Comparisons to Margaret Atwood, David Mitchell, and Helen Phillips will abound, but the remarkable Speak is a unique creation that stands on its own." -Bustle

"Stunning and audacious… It's not just one of the smartest books of the year, it's one of the most beautiful ones, and it almost seems like an understatement to call it a masterpiece."

"Louisa Hall grapples with what it means to be human and how artificial intelligence will fit into those definitions in her ambitious new novel… It's a complicated but compulsively readable tale, blending the voices of people who wonder whether they'll ever be heard or, more importantly, understood."

"Speak leaves its conclusions to its readers, to flip back and forth among the characters' differing points of view and decide for themselves - and is all the more engaging for it."

"Enter Louisa Hall's remarkable July novel Speak, which features not one, but five narrators: each inhabits separate geographical and temporal locations, but all reflect, in some way, on humanity's relationship with artificial intelligence."

"In Speak, distinct voices from distinct eras ponder human connection… Call it the influence of David Mitchell or Hari Kunzru, but Speak is a kaleidoscope of a book… it is a novel that wants to raise big questions about how we know one another and ourselves."

"Speak is a poignant reminder that language has mystery, and that questions of authenticity will always be with us."

"[A]mbitious… The novel's conceit might appeal to fans of David Mitchell, though Ms. Hall is mostly interested in plumbing the sensitive depths of her characters rather than tightening the screws of a mind-blowing schematic."

"Hall's empathy suffuses each character's voice, and the letters from Turing are especially touching."

"SPEAK may not be the first science fiction novel to counterpoise hubris, ingenuity, loss and progress. But the delicacy with which it juggles those concerns, allowing each its crystalline, utterly persuasive and transfixing moment in the air, speaks to Hall's uncommonly deep and complex intellectual engagement with her themes."

"Hall's novel manages with great verbal skill to corral these divergent and yet fundamentally similar stories."

"Everything you could want in a story is here... Speak is a novel that calls to the reader in many voices, harnessed to one distinct and singular imagination--Louisa Hall's. Turn to page one and be amazed."

"In this stunning and audacious second novel from Louisa Hall, perspectives shift between different eras and places, twisting together to form a story that's as hard to describe as it is remarkable. It's not just one of the smartest books of the year; it's one of the most beautiful."

"A marvelously inventive novel about what it means to communicate with one another."

"[Louisa Hall's] thoughtful, probing book is as emotionally complex as it is imaginative."

"Speak, Louisa Hall's lovely, slim science fiction novel, follows one of its characters as she discovers that it's worth finding her way back to life after betrayal and disappointment."