Mister Monkey: A Novel (Hardcover)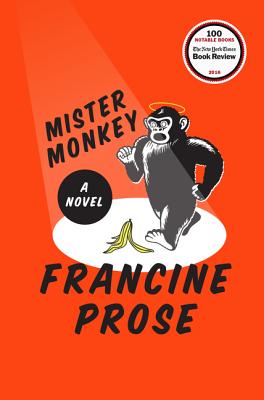 $26.99

Special Order - Subject to Availability
Staff Reviews
---
As a petulant, ungrateful child, my parents would often remind me of how many people had it worse than I did. I blame them for my devotion to schadenfreude: I now derive a particular satisfaction from books about people who have it worse than me. And I loved Mister Monkey! Populated by sad sacks, misfits, and the misunderstood, it is by turns hilarious and heartbreaking, but never ever boring! Each chapter is devoted to a different character, all connected by a cheesy play: a rich playwright, tormented by his lame success, a tiny youth in a monkey costume who sexually harasses his older co-star, the sexually harassed older co-star, and so many more. Francine Prose is at her best in this new book, expertly blending humor and pathos!
—
Lauren
November 2016 Indie Next List
---
"I came to this book expecting to be entertained, and it is laugh-out-loud funny. But in the wise and observant ways of Prose, Mister Monkey is more than just a protracted joke. The story begins in the narrow spaces of a theater so to be demolished for condos and widens as Prose shifts points of view from actor to costume designer to writer to waiter to Hindu deity and back to the stage. Adolescent rage, loneliness, divinity, the end of the world, the beginning of love, the way we fail to live up to our dreams for ourselves, the fear of our own mediocrity, the unexpected victories that are the grace that fills the spaces made by disappointment: these are the soul of this novel with an agile, monkey heart. Both deeply moving and light, this is one of my favorite novels of the year."
— Melanie McNair, Malaprop's Bookstore/Cafe, Asheville, NC
Description
---
"Tender and artful . . . a gently spiritual celebration of life." —New York Times Book Review
Acclaimed New York Times bestselling author Francine Prose weaves an ingenious, darkly humorous, and brilliantly observant story that follows the exploits and intrigue of a constellation of characters affiliated with an off-off-off-off Broadway children's musical
Mister Monkey—a screwball children's musical about a playfully larcenous pet chimpanzee—is the kind of family favorite that survives far past its prime. Margot, who plays the chimp's lawyer, knows the production is dreadful and bemoans the failure of her acting career. She's settled into the drudgery of playing a humiliating part—until the day she receives a mysterious letter from an anonymous admirer . . . and later, in the middle of a performance, has a shocking encounter with Adam, the twelve-year-old who plays the title role.
Francine Prose's effervescent comedy is told from the viewpoints of wildly unreliable, seemingly disparate characters whose lives become deeply connected as the madcap narrative unfolds. There is Adam, whose looming adolescence informs his interpretation of his role; Edward, a young audience member who is candidly unimpressed with the play; Ray, the author of the novel on which the musical is based, who witnesses one of the most awkward first dates in literature; and even the eponymous Mister Monkey, the Monkey God himself.
With her trademark wit and verve, Prose delves into humanity's most profound mysteries: art, ambition, childhood, aging, and love. Startling and captivating, Mister Monkey is a breathtaking novel from a writer at the height of her craft.
About the Author
---
Francine Prose is the author of twenty-one works of fiction including, the highly acclaimed Mister Monkey; the New York Times bestseller Lovers at the Chameleon Club, Paris 1932; A Changed Man, which won the Dayton Literary Peace Prize; and Blue Angel, which was a finalist for the National Book Award. Her works of nonfiction include the highly praised Anne Frank: The Book, The Life, The Afterlife, and the New York Times bestseller Reading Like a Writer, which has become a classic. The recipient of numerous grants and honors, including a Guggenheim and a Fulbright, a Director's Fellow at the Center for Scholars and Writers at the New York Public Library, Prose is a former president of PEN American Center, and a member of the American Academy of Arts and Letters and the American Academy of Arts and Sciences. She is a Distinguished Writer in Residence at Bard College.
Praise For…
---
"Tender and artful, Prose's 15th novel is a gently spiritual celebration of life." — New York Times Book Review, front cover review
"Masterful. . . . a lovely tribute to the transformative value of imagination." — Washington Post
"An indelible cast of characters… In this strong, humane, and funny novel, Prose has treated us to an enthralling entertainment both on and off stage." — Boston Globe
"Beautifully crafted, incisively written…Engaging and accessible…What elevates this novel is Prose's ability to let us see into the heart of each character, to render each so vulnerably human, so achingly real in just a few short paragraphs." — Minneapolis Star Tribune
"In this novel, the imminent end of the world feels as inevitable as the end of a particular life. MISTER MONKEY itself, though, is gripping and engaging all the way through, the characters' miseries as moving as their fierce attachments to hope and the possibility of unexpected mercies." — San Francisco Chronicle
"Remarkable. . . . [Prose] is the Meryl Streep of literary fiction, convincingly shifting between multiple voices and points of view-not just from book to book, but within a single work." — NPR
"(a) madcap, razor-sharp comedy." — People
"A comedy of manners for the digital age… an astonishing tour de force." — Brooklyn Eagle
"Prose is at her consummate, canny best in this superbly incisive comedy of errors, a cleverly choreographed relay in which each character subtly passes the narrating baton on to the next, and what a beguiling and bedeviled cast this is! ... Each character's inner soliloquy is saturated with yearning and profound spiritual inquiries as the silly play covertly evokes questions about truth and lies, evolution and extinction, and how we care for each other and the world. Prose is resplendent in this exceptionally keen, artistic, funny, empathic, and intricate dance of longing and coincidence." — Booklist, starred review
"Prose hilariously nails the down-at-the-heels milieu while also evoking the magic even low-rent theater can inspire in the narratives of the show's costume designer (an underpaid NYU grad student), the moonlighting emergency room nurse who plays the villainess, and the director, whose closing monologue reveals someone much kinder than his prior treatment of Margot suggested. Wickedly funny and sharply observant, in the author's vintage manner, with a warmth that softens the satire just enough." — Kirkus Reviews (starred review)
"This novel promises to be madcap and profound in equal measure." — The Millions
"A medley of hilarity, complexity and ruefulness, the novel is stellar, a showcase for an author whose juggling is a marvel to behold." — Maclean's Magazine (Canada)
"It's always exhilarating when a serious novelist reveals her ridiculous, irreverent streak, when she isn't too self-consciously proper to jape and jeer at the ineptitudes of everyday living. Prose has always been an unafraid novelist with a thirst for the mordant and satirical." — barnesandnoble.com
"Prose deftly manages the delicate balance of the comic novel, presenting humor and absurdity without sacrificing the humanity of her characters…A fairly breezy read with hidden, and not so hidden, depths." — Library Journal
"How does Prose do it? With precision, intelligence and wicked jocularity. She measures art in monkeys. She demands an evolution. This book hilariously swings through a backstage rank with hormones, ambition and an unforgettable cast of characters. Prose's words entice and excite like a darkened theater where the show is just about to begin." — Samantha Hunt, author of MR. SPLITFOOT
"Francine Prose has made something so original with Mister Monkey, her dizzying Ferris wheel of a novel, that it boggles the lucky reader's mind. Besides making me laugh out loud, its earned warmth & yes its effortless insight into the madness of the human heart creates pure delight. Francine Prose's best novel." — John Guare, distinguished playwright and author of "The House of Blue Leaves," "Six Degrees of Separation," and "Landscape of the Body"
Coverage from NPR