The Arm: Inside the Billion-Dollar Mystery of the Most Valuable Commodity in Sports (Hardcover)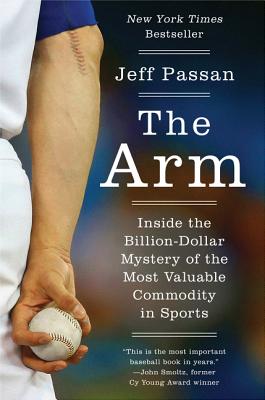 $26.99

Special Order - Subject to Availability
Staff Reviews
---
If you were to ask me, there are not many more satisfying sounds than the smack of a 90-plus mile per hour fastball against the leather of a catcher's glove. But at what price does that fastball come to a pitcher? In The Arm, Yahoo baseball writer Jeff Passan takes a comprehensive look at one of the most baffling epidemics in all of sports: the Tommy John surgery. Following two pitchers (one of whom is Diamondbacks player Daniel Hudson) in their return to the major leagues from the grueling surgery and subsequent rehabilitation period, The Arm serves as a wake-up call to all ages, young and old, amateur and professional. This is easily one of the best and well-researched sports books I've ever read, and I implore anyone that calls themselves a baseball fan to read it.
—
Heather H.
Description
---
NEW YORK TIMES BESTSELLER
Every year, Major League Baseball spends more than $1.5 billion on pitchers—five times the salary of all NFL quarterbacks combined. Pitchers are the lifeblood of the sport, the ones who win championships, but today they face an epidemic unlike any baseball has ever seen. 
One tiny ligament in the elbow keeps snapping and sending teenagers and major leaguers alike to undergo surgery, an issue the baseball establishment ignored for decades. For three years, Jeff Passan, the lead baseball columnist for Yahoo Sports, has traveled the world to better understand the mechanics of the arm and its place in the sport's past, present, and future. He got the inside story of how the Chicago Cubs decided to spend $155 million on one pitcher. He sat down for a rare interview with Hall of Famer Sandy Koufax, whose career ended at 30 because of an arm injury. He went to Japan to understand how another baseball-obsessed nation deals with this crisis. And he followed two major league pitchers as they returned from Tommy John surgery, the revolutionary procedure named for the former All-Star who first underwent it more than 40 years ago. 
Passan discovered a culture that struggles to prevent arm injuries and lacks the support for the changes necessary to do so. He explains that without a drastic shift in how baseball thinks about its talent, another generation of pitchers will fall prey to the same problem that vexes the current one. 
Equal parts medical thriller and cautionary tale, The Arm is a searing exploration of baseball's most valuable commodity and the redemption that can be found in one fragile and mysterious limb.
About the Author
---
Jeff Passan is a baseball columnist at Yahoo Sports, where he has worked for the past decade. He is the coauthor of the critically acclaimed Death to the BCS. He lives in Kansas with his wife and sons.
Praise For…
---
"A timely and comprehensive look at all aspects of a baseball problem that in recent years appears to approach a crisis."
— Bob Costas

"This is a stunning exposé of the hidden story behind the most frequent operation performed on the most important players in this most important game in our country."
— Ken Burns

"The Arm makes it official—Jeff Passan is the best young baseball writer in America. This searing, meticulously reported account of the orthopedic revolution that began with Tommy John is must reading for every manager, general manager, pitcher and, most especially, every parent whose child has 100 mph dreams."
— Jane Leavy, New York Times best-selling author of The Last Boy: Mickey Mantle and the End of America's Childhood

"The best baseball book of the year… Jeff Passan spent several years in clubhouses and operating rooms to report The Arm. It's a close, exceptionally well-written look into the game's epidemic of ruptured elbow ligaments, and the hard fact that medical science still has no real answers for it."
— Boston Globe

"One of the most important books on baseball of the decade, a superbly researched and detailed look at the current 'epidemic' of arm injuries in the sport."
— Publishers Weekly (starred review)

" . . .A must-read for any sports dad or anxious Mets fan. A rating."
— Entertainment Weekly

"Jeff Passan's The Arm is the real deal-a book that's both readable as hell and that has something meaningful to say about the way the game works...This human element lends the book its propulsive quality, but every part is fascinating. The Arm is a must-read."
— BookPage Magazine

"This is the most important baseball book in years, not just for major league pitchers like me who had Tommy John surgery but for every parent who wants a child with a healthy arm. This is an epidemic that can be fixed, and The Arm is a great first step."
— John Smoltz, former Cy Young Award winner

'Give[s] readers an insider's perspective on the threat hanging over every player who takes the mound."
— Booklist
Coverage from NPR