The Spider and the Fly: A Reporter, a Serial Killer, and the Meaning of Murder (Hardcover)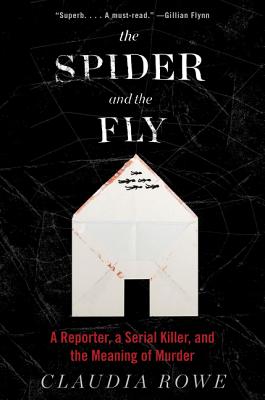 $26.99
Email or call for price.
Staff Reviews
---
I was initially drawn to this book because of my ghoulish affection for true crime books. But THE SPIDER AND THE FLY is miles away from the cheap paperbacks with tawdry covers that I usually pick up. This is a chronicle of an obsession with darkness by a writer laying herself bare. Claudia Rowe was a reporter in Poughkeepsie when a local man, Kendall Francois, was arrested for the grisly murders of eight women. The details of the case were exceptionally odd and Rowe managed to strike up an correspondence with Francois, playing the Clarice to his Hannibal. Besides the odd circumstances, what sets this book apart is the emotional depth. Rowe writes about how unhappy she was with her life as a younger woman, how she often felt lonely and adrift, how mortified she was by her inability to change her circumstances. She imagines that Francois often felt the same way, but tempers her empathy with moving portraits of the victims: women dismissed by the cops as drug addicts and unworthy of real search efforts. This is a book that lingers and shouldn't be missed!
—
Lauren
Description
---
Winner of the Washington State Book Award for Memoir
"Extraordinarily suspenseful and truly gut-wrenching. . . . A must-read."—Gillian Flynn, author of the #1 New York Times bestseller Gone Girl
In this superb work of literary true crime—a spellbinding combination of memoir and psychological suspense—a female journalist chronicles her unusual connection with a convicted serial killer and her search to understand the darkness inside us.
"Well, well, Claudia. Can I call you Claudia? I'll have to give it to you, when confronted at least you're honest, as honest as any reporter. . . . You want to go into the depths of my mind and into my past. I want a peek into yours. It is only fair, isn't it?"—Kendall Francois
In September 1998, young reporter Claudia Rowe was working as a stringer for the New York Times in Poughkeepsie, New York, when local police discovered the bodies of eight women stashed in the attic and basement of the small colonial home that Kendall Francois, a painfully polite twenty-seven-year-old community college student, shared with his parents and sister.
Growing up amid the safe, bourgeois affluence of New York City, Rowe had always been secretly fascinated by the darkness, and soon became obsessed with the story and with Francois. She was consumed with the desire to understand just how a man could abduct and strangle eight women—and how a family could live for two years, seemingly unaware, in a house with the victims' rotting corpses. She also hoped to uncover what humanity, if any, a murderer could maintain in the wake of such monstrous evil.
Reaching out after Francois was arrested, Rowe and the serial killer began a dizzying four-year conversation about cruelty, compassion, and control; an unusual and provocative relationship that would eventually lead her to the abyss, forcing her to clearly see herself and her own past—and why she was drawn to danger.
About the Author
---
Claudia Rowe is an award-winning journalist who has been twice nominated for the Pulitzer Prize. Currently a staff writer at the Seattle Times, she has published work in numerous newspapers and magazines, including the New York Times, Mother Jones, Huffington Post, Women's Day, Yes! and Seattle's alternative weekly, The Stranger. She has been honored by the Society of Professional Journalists, the Nieman Foundation for Journalism at Harvard University, and the Journalism Center on Children & Families, which awarded her a Casey Medal for Meritorious Journalism.
Praise For…
---
"Extraordinarily suspenseful and truly gut-wrenching, The Spider and the Fly is not just a superb true-crime story but an insightful investigation of the nature of evil, the fragility of good, and the crooked road that can turn human beings into monsters. A must-read."
— GILLIAN FLYNN, author of the #1 New York Times bestseller Gone Girl

"Part psychological thriller and part gut-wrenching memoir, The Spider and the Fly crosses boundaries on nearly every page. It is chilling, self-revelatory, and unforgettable."
— ROBERT KOLKER, author of the New York Times bestseller Lost Girls: An Unsolved American Mystery

"Claudia Rowe catalogues her obsession with a serial killer so mesmerizingly that before I knew it, I too was obsessed...But this is not merely a recounting of a descent, it is equally a memoir of discovery through the lens of potential evil. I literally could not put it down."
— Alan Cumming, author of the New York Times bestseller Not My Father's Son

"Rowe's engaging prose means the pages practically turn themselves."
— Kirkus Reviews

"Readers seeking a literary look at the psychology of a criminal will find much to hold them rapt."
— Booklist