The Quick Six Fix: 100 No-Fuss, Full-Flavor Recipes - Six Ingredients, Six Minutes Prep, Six Minutes Cleanup (Hardcover)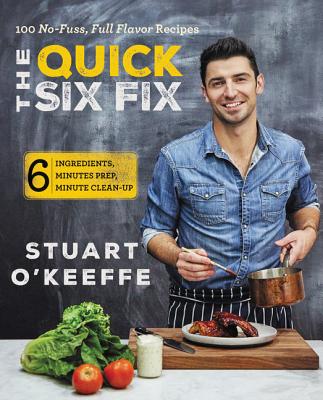 Description
---
Save time and simplify with 100 fabulous quick-and-easy recipes—using 6 ingredients, 6 minutes of prep, and 6 minutes of clean up—from celebrity chef Stuart O'Keeffe.
Preparing a meal doesn't need to be difficult or require a lot of time, celebrity chef Stuart O'Keeffe insists. If you work efficiently while keeping your space clean and cook with minimal yet flavorful ingredients, you can get a great meal from stove to table fast. In The Quick Six Fix, he offers dozens of delicious recipes for breakfast, salads, soups, pasta, fish, chicken, pork, beef, sides, and desserts that will get you in and out of the kitchen in thirty minutes or less. Each requires no more than 6 key ingredients, 6 minutes of prep work, and 6 minutes of clean up.
Chef Stuart begins with the pantry essentials and tools you'll need to whip up a diverse range of amazing dishes at a moment's notice, such as his tasty culinary school favorites, Moules Frites and Pistachio Basil Buttered Crispy Salmon. Indulge in delights that pay homage to his native Ireland, including Bangers with a Melted Leek Mash and Cranberry Compote, Sweet Berries "Yorkshire Pudding," and an Easter dinner favorite, Mustard Crusted Pork with Apple Cabbage Slaw. And savor delights like Mexican Street Corn and the "LA" Cheeseburger influenced by his adopted California home.
Stuart O'Keeffe believes in simplicity: Fewer ingredients afford higher quality. With The Quick Six Fix, he teaches you how to take smart shortcuts, like pairing key store-bought items with homemade ingredients, to cut kitchen time and save you money. Illustrated with more than 75 full color photos, The Quick Six Fix is the secret to creating easy-to-make, great-tasting dishes that are sure to wow.
About the Author
---
Stuart O'Keeffe is an Irish-born, California-based chef and best-selling author. He appears frequently on TV, starring in Food Network shows such as Private Chefs of Beverly Hills and Let's Eat, and he has appeared as a judge on Chopped, in addition to numerous appearances on Today and Rachael Ray where he offers fun, simple recipes to get home cooks into the kitchen. His first cookbook, The Quick Six Fix, was released in 2016 by HarperCollins. Stuart received his degree in Culinary Arts from the Dublin Institute of Technology and trained in Bordeaux and the Napa Valley before moving to Los Angeles where he watches the Housewives with his two Westies, Jack and Bo. Keep up to date with Stuart at tastybites.net, @ChefStuart_ on Twitter and @chefstuartokeeffe on Instagram, and Chef Stuart O'Keeffe on Facebook and YouTube.