Lara: The Untold Love Story and the Inspiration for Doctor Zhivago (Hardcover)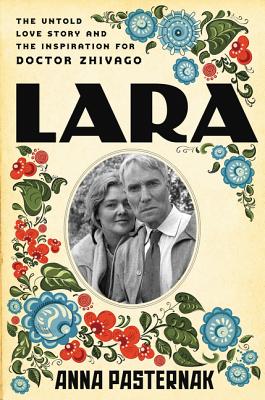 Description
---
The heartbreaking story of the love affair between Boris Pasternak, the author of Doctor Zhivago, and Olga Ivinskaya—the true tragedy behind the timeless classic, and a harrowing look at how the Russian government has treated dissidents
When Stalin came into power in 1924, the Communist government began persecuting dissident writers. Though Stalin spared the life of Boris Pasternak—whose novel-in-progress, Doctor Zhivago, was suspected of being anti-Soviet—he persecuted Boris's mistress, typist, and literary muse, Olga Ivinskaya. Boris's affair with Olga devastated the straitlaced Pasternaks, and they were keen to disavow Olga's role in Boris's writing process. Twice Olga was sentenced to work in Siberian labor camps, where she was interrogated about the book Boris was writing, but she refused to betray the man she loved. When Olga was released from the gulags, she assumed that Boris would leave his wife for her but, trapped by his family's expectations and his own weak will, he never did. 
Drawing on previously neglected family sources and original interviews, Anna Pasternak explores this hidden act of moral compromise by her great-uncle, and restores to history the passionate affair that inspired and animated Doctor Zhivago. Devastated that Olga suffered on his behalf and frustrated that he could not match her loyalty to him, Boris instead channeled his thwarted passion for Olga into the love story in Doctor Zhivago. 
Filled with the rich detail of Boris's secret life, Lara unearths a moving love story of courage, loyalty, suffering, drama, and loss, and casts a new light on the legacy of Doctor Zhivago.
About the Author
---
Anna Pasternak is an author, columnist, and journalist. She writes regularly for Sunday Times Style, Condé Nast Traveler, and Harper's Bazaar, and she is the author of three previous books. She lives in Oxfordshire, England, with her husband and daughter.
Praise For…
---
"[A] riveting, tragic tale."
— New Yorker

A "particularly poignant book."
— Washington Post

"Authoritative. . . The author convincingly establishes the unmistakable link between Lara and Olga and shows that from the time Pasternak met his muse in 1946, he and his novel were changed."
— Washington Times

"Lara is a chilling, upsetting reminder of what can happen when free speech is curtailed.
— NPR

"Drawing on memoirs, histories, and interviews, she has produced a fascinating and often heartbreaking double portrait. Her book, which proceeds as suspensefully as a criminal investigation, is a testament to the profound bond between writer and muse."
— O Magazine

"An enchanting love story, wonderfully told."
— Sir Ronald Harwood

"Anna Pasternak does not spare an ounce of drama nor detail from the story of her great-uncle's love affair with Olga Ivinskaya, the inspiration for Doctor Zhivago's Lara. The result is a profoundly moving meditation on love, loyalty and, ultimately, forgiveness."
— Amanda Foreman, author of A World on Fire

"This accessible history sketches the stories of a literary love affair and a great novel whose cultural and political impact may now seem almost unimaginable to a modern audience. . . . This is a sensitive . . . account of one of literature's great backstories."
— Publishers Weekly

"A sympathetic portrait of a woman who saw her lover in the same 'heroic light' as he saw himself."
— Kirkus

"As tragic and heartrending as Doctor Zhivago, as Anna details his two marriages, the Russian people's love of Boris' poetry, and the love affair that not only dominated his life but also allowed him, she posits, to write Doctor Zhivago. Hand this to Russophiles, poets, and romantics."
— Booklist

"Lara tells a heartbreaking love story, a tragedy in some ways as compelling as the classic its real-life protagonists inspired."
— Bookpage

"Pasternak writes with an intimate and lyrical simplicity that perfectly catches the emotions and torn allegiances of one of the literary world's most compelling love stories. Lara is a testament to timeless love, yes, but also to the moral responsibility of writers to pursue truth at all costs."
— Shelf Awareness

"Lara elevates Olga way above the negatively connotative "mistress" term, giving her not only flesh and blood but mind and spirit as well."
— Bookolage