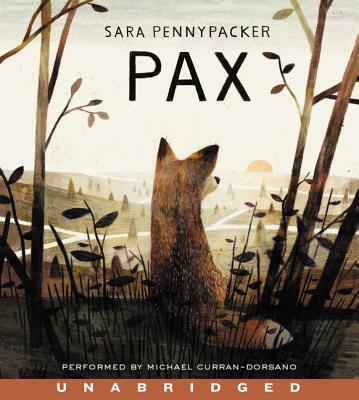 $25.99
Email or call for price.
Staff Reviews
---
Once you let this sweet little fox into your life, you will never want to let him go. He is one of the most endearing characters I have come across in a long time, and the author truly brings him to life, treating him like a genuine friend. Sara Pennypacker is a wonderful storyteller, a voice of wisdom, empathy, and hope. With Pax, she broke my heart and then mended it, stitching the torn pieces back together with tender care and soothing grace. Though the journey was harrowing, when I reached the end of it, I felt a renewed sense of peace with the world around me. Sincere, poignant, and stunningly beautiful, this is the kind of book that made me fall in love with reading in the first place. I can't wait to share it with you.
—
Jason
If you've ever lost a pet, or been angry at a parent, or wondered how war feels to the young and vulnerable, read this book. The author puts the reader straight into the mind of a fox and the 12-year-old boy who rescued him as a young abandoned kit, using the loveliest language to describe their struggles with these thorny issues. You might cry, though. Be prepared!
—
Georgeann
Description
---
National Book Award Longlist * New York Times Bestseller * An Amazon Best Book of the Year
From bestselling and award-winning author Sara Pennypacker comes a beautifully wrought, utterly compelling novel about the powerful relationship between a boy and his fox. Pax is destined to become a classic, beloved for generations to come.
Pax and Peter have been inseparable ever since Peter rescued him as a kit. But one day, the unimaginable happens: Peter's dad enlists in the military and makes him return the fox to the wild.
At his grandfather's house, three hundred miles away from home, Peter knows he isn't where he should be—with Pax. He strikes out on his own despite the encroaching war, spurred by love, loyalty, and grief, to be reunited with his fox.
Meanwhile Pax, steadfastly waiting for his boy, embarks on adventures and discoveries of his own. . . .
About the Author
---
Sara Pennypacker is the author of the award-winning, New York Times bestselling Clementine series, the acclaimed novel Summer of the Gypsy Moths, and the picture books Meet the Dullards, Pierre in Love, and Sparrow Girl. She divides her time between Cape Cod, Massachusetts, and Florida. You can visit her online at www.sarapennypacker.com.