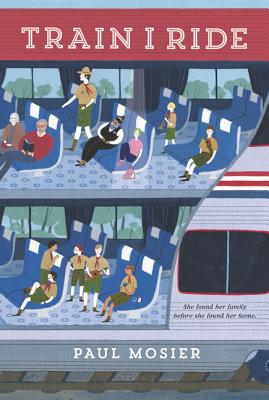 Staff Reviews
---
If only this book existed when I was in middle school. This beautiful and surprising novel is packed full of thought provoking and memorable quotes, as well as characters you want to adopt as your own friends and family. Read it as a child, read it as an adult. Regardless of what time you read it, you will undoubtedly find yourself moved as you remember that it is never too late to experience the hope of redemption. — From Ryan's picks
Description
---
4 starred reviews! "Heartbreaking, hilarious, and life-affirming" (Ami Polonsky, author of Gracefully Grayson and Threads)
Rydr is on a train heading east, leaving California, where her gramma can't take care of her anymore, and traveling to Chicago, to live with an unknown relative. She brings with her a backpack, memories both happy and sad, and a box containing something very important.
As Rydr meets her fellow passengers and learns their stories, her own story begins to emerge. It's one of sadness and heartache, and one Rydr would sometimes like to forget.
But as much as Rydr may want to run away from her past, on the train she finds that hope and forgiveness are all around her, and most importantly, within her, if she's willing to look for it.
From Publishers Weekly Flying Start author Paul Mosier comes a poignant story about a young girl's travels by train from Los Angeles to Chicago in which she learns along the way that she can find family wherever she is. Perfect for fans of Rebecca Stead and Sharon Creech.
About the Author
---
Paul Mosier began writing novels in 2011 but has written in some fashion his entire life. He is married and the father to two daughters, one of whom has passed to the next dimension. He lives near his place of birth in downtown Phoenix, Arizona. He loves listening to baseball on the radio, eating vegetarian food, drinking coffee, and talking nonstop. He has written three critically acclaimed books for middle grade readers: Train I Ride, Echo's Sister, and Summer and July. Visit him on his blog, novelistpaulmosier.wordpress.com.
Praise For…
---
★ "A harrowing, moving, immersive, and ultimately uplifting debut novel." — Kirkus Reviews (starred review)
★ "In this debut novel, Mosier gives middle grade readers a character who battles life's challenges with extreme honesty and doesn't sugarcoat her inner battles. A tale that will stay with readers long after they reach the final destination." — School Library Journal (starred review)
★ "In his first novel, Mosier offers a cast of well-drawn characters, an unusual setting, and a rewarding reading experience." — Booklist (starred review)
★ "An emotionally expansive and deeply affecting story. Heartbreaking and unforgettable." — Publishers Weekly (starred review)
"Rydr herself is sympathetic, and she's got a believable voice, a mix of vulnerability, edginess, and raw fury at her rotten luck. Readers who like drama, sentiment, and tidy, tearful endings may find this to be the ticket." — Bulletin of the Center for Children's Books