With Every Breath: A Slow Burn Novel (Slow Burn Novels #4) (Hardcover)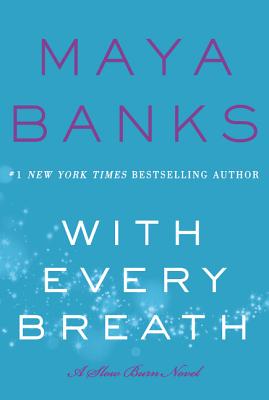 $25.99
Special Order - Subject to Availability
Other Books in Series
This is book number 4 in the Slow Burn Novels series.
Description
---
As a vulnerable teenager, Eliza Cummings was the target of a predator who cultivated her need for love and approval. Until she found the courage to fight back and help put him away. Years later, she works with Devereaux Security Services and devotes every hour to taking down the very thing that nearly destroyed her. But now the killer has been set free, and Eliza knows it's only a matter of time before he comes for her, and the people she loves.
Wade Sterling never allows anyone close enough to see the man behind the impenetrable mask—but one woman threatens his tightly leashed control. He took a bullet for Eliza and the result was more than a piece of metal embedded in his skin. She was under his skin and nothing he did could rid him of the woman with the heart of a warrior.
But when Wade sees a panicked and haunted Eliza he knows something is very wrong, because the foolish woman has never had the sense to be afraid of anything. So when she tries to draw a monster away, the primal beast barely lurking beneath his deceptively polished facade erupts in a rage. She may not know it, but she belongs to him. This time, Eliza isn't going to play the protector. She was going to be the protected. And as long as Wade breathes, no one will ever hurt what is his.
About the Author
---
Maya Banks is a #1 USA Today and New York Times bestselling author whose chart toppers have included erotic romance, romantic suspense, contemporary romance, and Scottish historical romances. She is the author of the Breathless Trilogy, the KGI series, the Sweet series, and the Colters' Legacy novels.
Praise For…
---
Praise for the novels of Maya Banks: "Maya Bank's Keep Me Safe takes readers into the black depths of anguish, face-to-face with evil. Her characters are a testament to the strength of the human spirit, and to the power love has to heal even the deepest wounds."
— Linda Howard, New York Times and USA Today bestselling author

"Caleb and Ramie's intense connection and fiercely passionate romance will keep readers hooked along with suspense and intrigue. Banks' first novel in her new Slow Burn series will leave readers wishing for the next one."
— Romantic Times BOOKclub, 4 1/2 stars

"A well-paced read with non-stop action and buckets of family drama, but there are also some gorgeous romantic moments.
— Heroesandheartbreakers.com

"A must-read author…her [stories] are always full of emotional situations, lovable characters, and kick-butt story lines."
— Romance Junkies

"[A] one-two punch of entertainment that will leave readers eager for the next book."
— Publishers Weekly

Praise for the novels of Maya Banks: "Incredibly awesome…I love Maya Banks and I love her books."
— Jaci Burton, New York Times bestselling author

"Move over Fifty Shades...Maya got a little somethin' somethin' for ya."
— Examiner.com

"Maya Banks…really dragged me through the gamut of emotions. From…'is it hot in here?' to 'oh my GOD'…I'm ready for the next ride now!"
— USA Today

"Maya Bank's KEEP ME SAFE takes readers into the black depths of anguish, face-to-face with evil. Her characters are a testament to the strength of the human spirit, and to the power love has to heal even the deepest wounds."
— New York Times and USA Today bestselling author Linda Howard