Bad Dreams and Other Stories (Hardcover)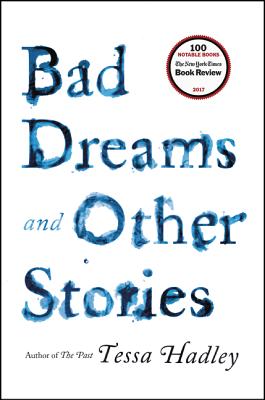 $26.99
Email or call for price.
Staff Reviews
---
In her reflections of family dynamics and our inner psyche, Hadley reveals how small actions can have immense repercussions and often reveal the hidden mysteries that shape the people we are. In these ten stories she captures her characters at turning points so subtle they themselves rarely notice them. Her stories are right up there with those of Alice Munro, Laurie Moore, and Jhumpa Lahiri.
— From
Gayle's Picks (page 2)
Description
---
Winner of the Edge Hill Short Story Prize
A New York Times Notable Book of the Year
An NPR Best Book of the Year
The award-winning author of The Past once again "crystallizes the atmosphere of ordinary life in prose somehow miraculous and natural" (Washington Post), in a collection of stories that elevate the mundane into the exceptional.
The author of six critically acclaimed novels, Tessa Hadley has proven herself to be the champion of revealing the hidden depths in the deceptively simple. In these short stories it's the ordinary things that turn out to be most extraordinary: the history of a length of fabric or a forgotten jacket.
Two sisters quarrel over an inheritance and a new baby; a child awake in the night explores the familiar rooms of her home, made strange by the darkness; a housekeeper caring for a helpless old man uncovers secrets from his past. The first steps into a turning point and a new life are made so easily and carelessly: each of these stories illuminate crucial moments of transition, often imperceptible to the protagonists.
A girl accepts a lift in a car with some older boys; a young woman reads the diaries she discovers while housesitting. Small acts have large consequences, some that can reverberate across decades; private fantasies can affect other people, for better and worse. The real things that happen to people, the accidents that befall them, are every bit as mysterious as their longings and their dreams.
Bad Dreams and Other Stories demonstrates yet again that Tessa Hadley "puts on paper a consciousness so visceral, so fully realized, it heightens and expands your own. She is a true master" (Lily King, author of Euphoria).
About the Author
---
Tessa Hadley is the author of six highly acclaimed novels, including Clever Girl and The Past, as well as three short-story collections, most recently Bad Dreams and Other Stories, which won the Edge Hill Short Story Prize. Her stories appear regularly in The New Yorker; in 2016 she was awarded the Windham Campbell Prize and the Hawthornden Prize. She lives in London.
Praise For…
---
"Marvelous…. Every situation captivates; every carefully chosen word rings true."
— People

"These consummately crafted tales reveal Hadley's unflinching audacity and her peerless gift for revealing ourselves as we are, not as we wish to be."
— Oprah.com

"It is impossible to overstate how much I admire the work of Tessa Hadley; her mastery of the smallest gestures on the page is breathtaking and her ability to weave a symphonic whole time after time thrilling. Every story in this collection is beautiful, precise, expansive, and a joy."
— Cynthia D'Aprix Sweeney, author of The Nest

"Her meticulously observed, extraordinarily perceptive stories are as satisfying as Alice Munro's. Yes, Hadley is that good…. Instantly immersive…. Unlike many short story writers, who serve up slices of life cut so thin you're left craving more, Hadley offers both rich complexity and satisfying closure."
— Heller McAlpin, NPR

"Like Murakami, Tessa Hadley's marvelous new collection, 'Bad Dreams and Other Stories' scrutinizes difficult, messy relationships…. Hadley demonstrates how brief, powerful relationships can forever change people…. Deliciously, Hadley's characters also practice the art of deceit, unaware how stacked lies will eventually topple over onto them."
— Don Waters, San Francisco Chronicle

"Quietly explosive short stories that reveal, with unsparing precision, the epic drama simmering beneath the mundanity of everyday life…. Achingly lovely, though never sentimental, Hadley's collection renders common lives with exquisite grace."
— Kirkus, starred review

"Remarkably precise and perceptive…. In subtly insightful and observant prose, Hadley writes brilliantly of the words and gestures that pass unnoticed 'in the intensity of [the] present' but echo without cease."
— Publishers Weekly, starred review

"Masterful…. Each story is more memorable than the next as Hadley seduces readers with a reassuring gentleness that craftily covers the steely danger that lies within each flawed and fragile relationship."
— Booklist

"Hadley is so insightful, such a lovely writer, that she pulls you right into the tangle of wires that connect and trip up the stressed siblings. She makes you feel for these imperfect people, want to scold them, and ultimately accept them as they are. Just like family."
— Kim Hubbard, People, Book of the week, on The Past

"Tessa Hadley recruits admirers with each book. She writes with authority, and with delicacy: she explores nuance, but speaks plainly; she is one of those writers a reader trusts."
— Hilary Mantel, author of Wolf Hall and Bring up the Bodies, on The Past

"What Hadley's stories share with Munro's is an extraordinary ability to capture whole worlds — the hopes, disappointments, complexity and arc of characters' lives — in concise prose that never feels rushed."
— Heller McAplin, San Francisco Chronicle, on Married Love

"Hadley's genius and Gregory's splendid performance have given us an audiobook that can be listened to over and over again."
— Washington Post (Audio Edition)