Smartcuts: The Breakthrough Power of Lateral Thinking (Paperback)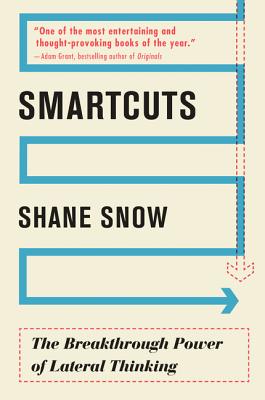 $15.99

Not Available In-Store - Usually Ships from Warehouse in 1-5 Days
Staff Reviews
---
As a general rule, I don't spend much time reading nonfiction, but something about Smartcuts caught my attention, and I had to see what it was about. I'm glad I did, because it ended up being one of the most interesting and thought provoking books I've read in a very long time. In order to demonstrate his principles for success – not shortcuts, but smartcuts – Shane Snow examines the success stories of prominent figures in various fields ranging from fashion to rocket science. The conclusions he draws are relevant to all of us, relating not only to business strategy but to problem solving and lateral thinking in general. This book is full of fascinating ideas, inspiring true stories, entertaining tidbits, and compelling insight, all presented in an engaging style that kept my attention riveted. I couldn't put it down.
—
JASON'S STAFF PICKS
Description
---
Serial entrepreneur and journalist Shane Snow delves into the reasons why some people and organizations are able to achieve incredible things in implausibly short time frames, showing how each of us can use these "smartcuts" to rethink convention and accelerate success.
In every era, innovators from art to science to business have used what psychologists call "lateral thinking" to find better routes to stunning accomplishments. Smartcuts shows how they bucked the norm—and how the rest of us can too. Snow shatters common wisdom about success, revealing how conventions like "paying dues" prevent progress, why kids shouldn't learn multiplication tables, and how, paradoxically, it's easier to build a huge business than a small one.
Smartcuts tells the stories of people who dared to work differently and lays out practical takeaways for the rest of us. It's about applying entrepreneurial and technological concepts to success in life and work, and how, by emulation, we too can leapfrog competitors, grow businesses, and fix society's problems faster than we think.
About the Author
---
Shane Snow is a New York City–based journalist and Web entrepreneur, and the cofounder and chief creative officer of the media technology company Contently. He holds a master's degree in journalism from Columbia University and is a fellow of the Royal Society of the Arts. Snow contributes regularly to Wired magazine and Fast Company, and has written about innovation for numerous publications, including the New Yorker, the Washington Post, and Advertising Age. Snow is a sought-after speaker at technology and advertising summits, and writes for LinkedIn's Influencer program. His work in technology entrepreneurship has been recognized by the United Nations, the New York Times, Inc., Forbes, Details, and New York City's Economic Development Council.
Praise For…
---
"As fascinating as it is fun, Smartcuts is an engaging journey through the types of lateral thinking and creative strategies that so often underlie success." — Maria Konnikova, New York Times bestselling author of Mastermind
"Smartcuts solves a major mystery, illuminating how visionaries and pioneers find faster ways to achieve their goals. With spellbinding stories and relevant research, Shane Snow has delivered one of the most entertaining and thought-provoking books of the year." — --Adam Grant, Wharton professor and author of Give and Take
"Smartcuts is surprising and awesome. It's Malcolm Gladwell meets Tim Ferriss. Part Good to Great, part McGuyver, this is a book every 21st century entrepreneur should read." — Scott Gerber, Founder, Young Entrepreneurs Council
"Shane is living proof that Smartcuts work. He hacked his way into Fast Company, Wired and Ad Age, built a multi-million dollar startup by age 30, and now he's written his first of what I'm sure will be many excellent books. Follow this guy!" — --Ryan Holiday, bestselling author of Trust Me I'm Lying and The Obstacle Is The Way
"Shane Snow is a fresh and future-thinking voice in today's tumultuous business climate. You must read Smartcuts if you are a social entrepreneur or would like to be one, because what Shane teaches us most of all is to be "bigger than just business." — --Soraya Darabi, Co-founder of Zady and Foodspotting
"[Smartcuts] is a manifesto for success for those who do not want to toil away unnoticed." — Financial Times
"It's worth its weight in 10 airport business books, in part because Snow is such a clear, beautiful writer who does not succumb to aphorism and business gobbledygook." — New York Times Insider