A Closed and Common Orbit (Wayfarers #2) (Paperback)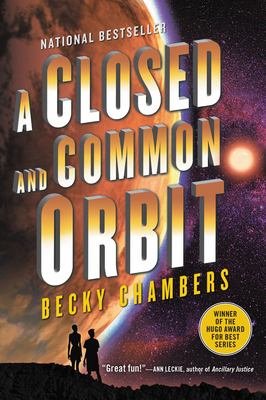 $17.99

Not Available In-Store - Usually Ships from Warehouse in 1-5 Days
Other Books in Series
This is book number 2 in the Wayfarers series.
Staff Reviews
---
Becky Chambers continues to impress in this follow-up. While the previous novel will add to the experience, it is by no means required reading to enjoy this deep space romp. Her ability to create small, personal stories in the backdrop of a massive universe of aliens and AI kept me hooked the whole way through. I consumed this book with fervor. Part of the book follows an artificial intelligence being reborn and facing persecution, while the other half puts you in the shoes of a young escaped clone, as she lives among the toxic wastes of an alien planet. Fans of Firefly, Titan A.E., or Mad Max: Fury Road will all find something both fresh and familiar from this second novel in the Wayfarers saga. This book is thought-provoking, full of heart, and always engrossing.
—
Cameron
Description
---
National Bestseller!
Winner of the Hugo Award for Best Series!
A Publishers Weekly "Best Books of 2017" pick!
Nominated for the 2017 Hugo Award for Best Novel!
Shortlisted for the 2017 Arthur C. Clarke Award!
Winner of the Prix Julia-Verlanger!
Embark on an exciting, adventurous, and dangerous journey through the galaxy with the motley crew of the spaceship Wayfarer in this fun and heart-warming space opera—the sequel to the acclaimed The Long Way to a Small, Angry Planet.
Lovelace was once merely a ship's artificial intelligence. When she wakes up in a new body, following a total system shut-down and reboot, she has no memory of what came before. As Lovelace learns to negotiate the universe and discover who she is, she makes friends with Pepper, an excitable engineer, who's determined to help her learn and grow.
Together, Pepper and Lovey will discover that no matter how vast space is, two people can fill it together.
The Long Way to a Small, Angry Planet introduced readers to the incredible world of Rosemary Harper, a young woman with a restless soul and secrets to keep. When she joined the crew of the Wayfarer, an intergalactic ship, she got more than she bargained for—and learned to live with, and love, her rag-tag collection of crewmates.
A Closed and Common Orbit is the stand-alone sequel to that beloved debut novel, and is perfect for fans of Firefly, Joss Whedon, Mass Effect, and Star Wars.
About the Author
---
Becky Chambers is a science fiction author based in Northern California. She is best known for her Hugo Award-winning Wayfarers series, which currently includes The Long Way to a Small, Angry Planet, A Closed and Common Orbit, and Record of a Spaceborn Few. Her books have also been nominated for the Arthur C. Clarke Award, the Locus Award, and the Women's Prize for Fiction, among others. Her most recent work is To Be Taught, If Fortunate, a standalone novella.
Becky has a background in performing arts, and grew up in a family heavily involved in space science. She spends her free time playing video and tabletop games, keeping bees, and looking through her telescope. Having hopped around the world a bit, she's now back in her home state, where she lives with her wife. She hopes to see Earth from orbit one day.
Praise For…
---
"As with her amazing debut, the power of Chamber's second space opera is in her appealing characters [...] Her protagonists might not all be human, but they possess more humanity than most" — Library Journal (starred review)
"Chambers uses her considerable talent to take a more focused and contained look at a gut-wrenching story of self-determination and personal autonomy [...] No matter what beautiful and strange world Chambers takes us to, we can count on her to lead with humor and heart." — RT Book Reviews (4 1/2 stars)
"Warm, engaging, properly science-fictional, A Closed and Common Orbit is a very likable novel indeed." — The Guardian
"A Closed and Common Orbit may be smaller in scope than the book before it, but in its focus and its force, in the sheer delight it takes in the discoveries it documents, it's as fine and as fantastical and as fun as Chambers' absolute darling of a debut." — Tor.com
"As good, smart and satisfying as its predecessor...If there was such a thing as a Cosy Space Opera subgenre of Speculative Fiction, Becky Chambers' series would likely be listed alongside the equally excellent On a Red Station, Drifting by Aliette de Bodard and Binti by Nnedi Okorafor." — Book Smugglers
"While most sequels feel the need to go bigger and bolder, Orbit is a more intimate story than its predecessor, exploring trust, the mind/brain paradox, and unease with one's body, while examining the ways someone without a family makes their way in the world and forms their own connections." — AV Club
"The vibrant lines drawn between lives prove as compelling as laser battles and widescreen explosions. If you yearn for science fiction with heart, you'll be hard-pressed to find a better candidate this stellar novel." — B&N Sci-Fi and Fantasy Blog
"Chambers Wayfarers series is the feel-good science fiction series you were looking for. Depressing dystopias got you down? Here's the antidote [...] This is optimistic science fiction for those who grew up on Original Series Star Trek." — Pop Verse
"For any of us, life as we think we know it can change at any time. A Closed and Common Orbit simply reminds us that, in a universe of immense and wondrous possibilities, there's no shame in finding oneself a novice here anew." — Strange Horizons
"Humane and alien, adventurous and thoughtful, vast in its imagination and wonderfully personal in the characters it builds. But above all else, it is joyously written and a joy to read." — Claire North, author of The First Fifteen Lives of Harry August
"Great fun!" — Ann Leckie, author of Ancillary Justice
"Becky Chambers' debut novel . . . is probably the most fun that you'll have with a space opera novel this year. It's exciting, adventurous, and the cozy sort of space opera that seems to be in short supply lately. . . . Not to be missed." — iO9
"Becky Chambers' debut is a joyous, optimistic space opera ... Although it isn't shy about tackling Big Questions, Planet is a heart-warming debut novel that will restore your faith in science fiction (specifically) and humanity (in general)." — Tor.com
"A warm, big-hearted, progressive and fun blast of sci-fi. . . . The Long Way to a Small, Angry Planet is just so much fun to read, and we can't wait to see what Chambers does next. 5 stars." — SciFiNow
"A quietly profound, humane tour de force that tackles politics and gender issues with refreshing optimism." — The Guardian
"One of the most enjoyable, brilliantly realized spacey SF novels I've read in ages." — James Smythe, author of The Echo and The Explorer