1917: Lenin, Wilson, and the Birth of the New World Disorder (Paperback)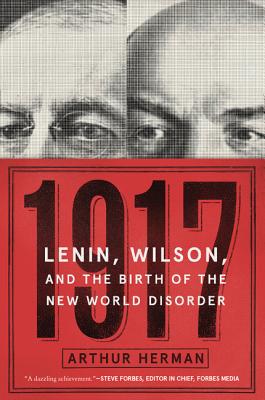 Staff Reviews
---
A unique look at World War I in that the book is concerned with two significant powers lingering mainly on the sidelines of the conflict. Herman compares and contrasts Lenin and Woodrow Wilson's personalities and quests for power and isn't particularly kind to either of them. 1917 assumes you know all the terrible things Lenin did so he spends more time on the damage Wilson's presidency did to the international stage and how just a little bit of flexibility, or empathy, on his part could have helped set the world on a much different path then the destructive one it's been on ever since the first World War.
—
Danny
Description
---
How did two men move the world away from wars for land and treasure to wars over ideas and ideologies—a change that would go on to kill millions?
In April 1917, Woodrow Wilson—champion of American democracy but also of segregation, advocate for free trade and a new world order based on freedom and justice—thrust the United States into the First World War in order to make the "world safe for democracy"—only to see his dreams for a liberal international system dissolve into chaos, bloodshed, and betrayal.

That October, Vladimir Lenin—communist revolutionary and advocate for class war and "dictatorship of the proletariat"—would overthrow Russia's earlier democratic revolution that had toppled the powerful czar, all in the name of liberating humanity—and instead would set up the most repressive totalitarian regime in history, the Soviet Union. 
In this incisive, fast-paced history, the New York Times bestselling author Arthur Herman brilliantly reveals how Lenin and Wilson rewrote the rules of modern geopolitics. Prior to and through the end of World War I, countries marched into war only to advance or protect their national interests. After World War I, countries began going to war over ideas. Together Lenin and Wilson unleashed the disruptive ideologies that would sweep the world, from nationalism and globalism to Communism and terrorism, and that continue to shape our world today.
Our new world disorder is the legacy left by Wilson and Lenin, and their visions of the perfectibility of man. One hundred years later, we still sit on the powder keg they first set the detonator to, through war and revolution.
About the Author
---
Arthur Herman, PhD, is the author of the New York Times bestseller How the Scots Invented the Modern World, which has sold a half million copies worldwide, and Gandhi and Churchill, which was a 2009 finalist for the Pulitzer Prize. His six other books include To Rule the Waves: How the British Navy Shaped the Modern World, which was nominated for the UK's prestigious Mountbatten Maritime Prize; Freedom's Forge, named by the Economist as one of the Best Books of 2012; and Douglas MacArthur: American Warrior. He is currently a Senior Fellow at the Hudson Institute in Washington, DC.
Praise For…
---
"A dazzling achievement." — Steve Forbes, Editor in Chief, Forbes Media
"Woodrow Wilson, the liberal idealist, and Vladimir Lenin, the illiberal totalitarian, hand-in-glove unwound the old nineteenth-century order and redefined war as an existential and global struggle over ideas—with disastrous twentieth-century results. In yet another well-written and fascinating dual biography, the prolific and insightful historian Arthur Herman shows how Wilson's naive good intentions and Lenin's deliberate ruthlessness nonetheless had the same pernicious effect of using the state to defy human nature. A fascinating and entirely original explanation of the American and Russian origins of the modern world." — Victor Davis Hanson, Senior Fellow, the Hoover Institution, Stanford University
"The pairing of these two diametrically opposed figures into one biography makes this illuminating read for anybody interested in World War I, the new political order it spawned, and the failures that led to the rise of Nazism and the horrors of World War II." — Library Journal
"Deeply researched and engagingly written, this is a gripping account of great battles won and lost, of a triumphant war followed by a failed peace, and of clashing ideologies that shaped a century." — Robert Kagan, author of The World America Made