The Blinds: A Novel (Hardcover)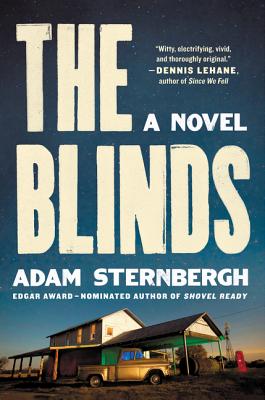 Staff Reviews
---
They say it's called the Blinds because there's no information going in or out of Caesura, a small town in the middle of the Texas desert. You've been told you are here either because you're a murderer or witnessed something bad enough to put your life in danger--you just don't know which one. And when this isolated town starts to gain a body count, well, things get interesting. The pace of The Blinds is subtle and building so there's a little patience involved, but when the pieces of this town's mysteries start to fall into place it's wholly worth the wait. Caesura initially emits an atmosphere or normalcy that's quickly proven to be untrue, and the dialogue is so sharp you don't realize it's slipped in until you hear the blood dripping on your shoes.
— From
Leah's Picks (page 1)
Description
---
BOLO Top Read of 2017
PopSugar Best Book of 2017
From the Edgar Award-nominated author of Shovel Ready, a blistering new thriller that Dennis Lehane calls "propulsive and meaningful"
For fans of Cormac McCarthy, Jim Thompson, the Coen Brothers, and Lost
Imagine a place populated by criminals—people plucked from their lives, with their memories altered, who've been granted new identities and a second chance. Welcome to The Blinds, a dusty town in rural Texas populated by misfits who don't know if they've perpetrated a crime or just witnessed one. What's clear to them is that if they leave, they will end up dead.
     For eight years, Sheriff Calvin Cooper has kept an uneasy peace—but after a suicide and a murder in quick succession, the town's residents revolt. Cooper has his own secrets to protect, so when his new deputy starts digging, he needs to keep one step ahead of her—and the mysterious outsiders who threaten to tear the whole place down. The more he learns, the more the hard truth is revealed: The Blinds is no sleepy hideaway. It's simmering with violence and deception, aching heartbreak and dark betrayals.
About the Author
---
Adam Sternbergh is New York magazine's culture editor, as well as the author of the Edgar Award–nominated novels Shovel Ready and Near Enemy. He lives in Brooklyn.
Praise For…
---
"Eerie. . . . Sternbergh's characters are intriguing, his plot is suspenseful and his outlook is endearingly dark. . . . Sternbergh is an original, grandly irreverent writer."
— Washington Post

"A thrilling Western unlike any you've read before."
— Vulture

"Expertly melds the thriller and the Western. . . . Truly original."
— Lisa Ko, author of The Leavers

"Crackles with noirish delights. . . . Sternbergh writes a beautiful sentence, even when the subject is mayhem, and he has a talent for lean, propulsive plotting."
— Newsweek

"Sternbergh shows again why he is one of the most inventive thriller writers working today."
— Booklist (starred review)

"A tense, broiling, 21st-century Western with a crafty premise."
— Kirkus Reviews (starred review)

"The newest release from the riveting Adam Sternbergh."
— Popsugar

"A quick-paced story of crime and deception."
— Dallas Morning News

"[An] exciting new thriller. . . . This book doesn't pull any punches."
— Bookish

"Guilt, memory, and redemption swirl through this inventive science fiction-based thriller."
— Publishers Weekly

"Adam Sternbergh is a genre-bender of the highest caliber. Part thriller, part Western, part pulpy whodunit, The Blinds is a propulsive and meaningful meditation on redemption and loss. It's witty, electrifying, vivid, and thoroughly original."
— Dennis Lehane, author of Since We Fell

"The Blinds is brilliantly original. Fast-paced, ranging, and inventive, Adam Sternbergh's restless imagination once again conjures characters and scenarios with heartbreaking insight, peril, and startling stakes. Readers take heed; this is a hell of a ride."
— Smith Henderson, author of Fourth of July Creek

"Adam Sternbergh tops my list of drop-everything-and-read novelists. With hints of Charles Willeford and Philip K. Dick, and rendered with achingly beautiful prose, The Blinds plucks the strings of Sternbergh's favored themes-identity, loss, meta-reality-creating a symphony of noirish grit and improbable grace."
— Gregg Hurwitz, author of The Nowhere Man

"The Blinds is a wild, fever-dream of a novel. Posing questions about the power-and peril-of running from the past, Sternbergh's vivid vision and the people he brings to life will haunt you long after you turn the shocking final pages."
— Julia Dahl, author of Invisible City and Conviction